Congratulations to Our New Team Leads!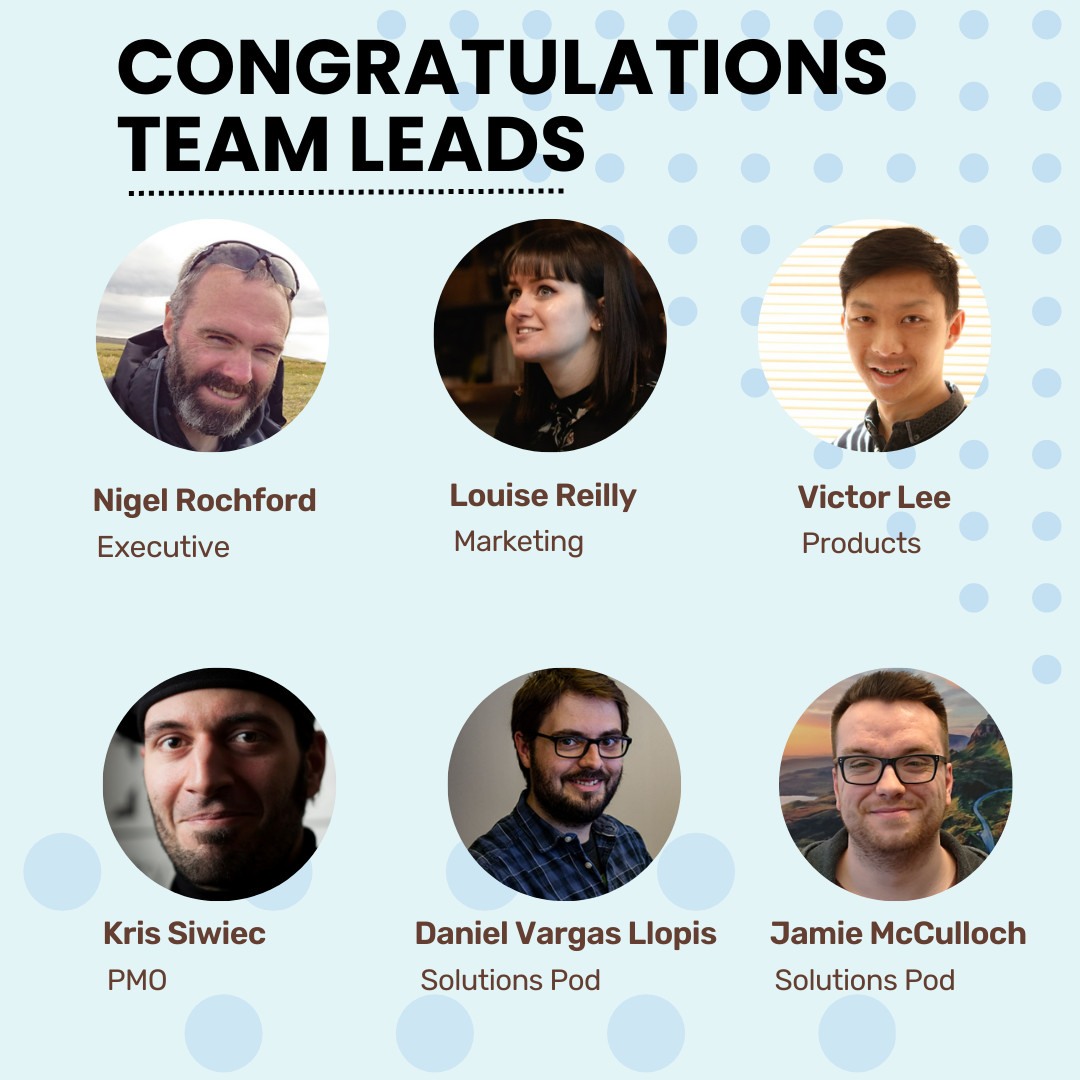 We'd like to introduce you to the New Verve Team Leads!
We recently decided to update our team lead structure and assigned the role to a talented member of each of our teams. Our current team leads are:
Team leads are experienced colleagues who drive the team's focus and oversee day-to-day team operations. This is the latest in a series of steps to move away from line management in favour of a more autonomous team structure.
The role of the Team leads is primarily to provide guidance, enablement, and supervision for their team. This means they are responsible for translating our business vision into tangible team goals, motivating team members by providing support and encouragement, leading team enablement, and helping build team culture.
Read on to find out more about the duties and responsibilities of our Team Leads.
Team building, culture and collaboration
One key reason we created the Team Lead roles was to help facilitate culture and collaboration between each of our remote teams. We're very aware that working remotely can feel isolating and this may be hard to communicate.
Instead, we established each team and put someone in charge to identify, organise, and promote team-building opportunities, such as ideation sessions, team socials, office days or away days.
Along with the social side of the role, team leads have to execute, implement, and oversee day-to-day team operations, such as stand-ups, show & tells, health checks, or team retros. This gives them a chance to gain some management and mentoring experience while ensuring the delivery of work by their team.
Driving team mission and vision
We believe it's important for each team to have a specific mission which aligns with our overall business strategy in order to give purpose to and guide the work we do. It is the Team Lead's responsibility to ensure their team is aware of this mission and is working towards it.
Reporting the progress to the Exec Team, the Team Leads will define, track, and execute annual team goals based on the latest business vision and objectives. Through weekly meetings, team leads and our exec team ensure all teams are on track and help facilitate synergy and collaboration across teams.
In addition to this, it is important that the Team Leads own, maintain, and enforce team-specific processes and standards, such as team values, missions and visions, communication and documentation, delivery of work, or timekeeping. This provides a formal basis for each team member to refer to and to help guide them in their work.
Team development and enablement
Team Leads are key to a team's enablement and development. It is their responsibility to own, maintain, and implement the team enablement strategy and development plan. This includes not only creating team-wide learning but also facilitating individuals' knowledge paths based on their own skill gaps and career goals.
Across their own team and the wider company, Team Leads must identify, organise, and promote knowledge-sharing opportunities, such as ecosystem digests and events, skill workshops, or innovation days. These allow team members to consolidate their own learning while sharing it with others and becoming a knowledge source on that subject.
For all team members, Team Leads should be the go-to member of staff to direct them to key sources of information and support, such as policies, guidelines, and HR. In addition to this, Team Leads are in charge of welcoming new members into the team. This includes assigning them with buddies, onboarding them onto our ways of working and integrating them into the day-to-day work. Not only does this provide structure to our onboarding process, but it also provides new starts with a friendly face to go to in those first few weeks.
Not only do these responsibilities help team members' development but it also provides Team Leads with the chance to create mentoring relationships and coaching opportunities. They are able to move through their own leadership enablement path and gain valuable management experience.
Team health and wellbeing
One of the most important roles of our Team Leads is their support of their team's health and wellbeing. We encourage our Team Leads to be valuable resources for our teams, signposting useful resources and platforms focused on health and wellbeing, including our EAP, our Wellbeing Champion and our HR partner.
Additionally, we know how isolating remote working can be so we also encourage our teams to reach out to their team lead if their feeling low or simply want a chat to break up the day. Our Team Leads will do a great job of creating a sense of comradery and friendship within the teams.
So, congratulations to all our new Team Leads and we look forward to the impact you will make at New Verve!
If you like the sound of working at New Verve, take a look at our careers page!
Related Reading
If you enjoyed this blog and want to find out more about our remote team then check out the blog The Importance of Work-Life Balance While Working Remotely.
---
---