<![CDATA[

If you're looking for corporate wikis or document collaboration tools then chances are you've looked into Confluence, Sharepoint, Notion and Google Docs. But how do you decide which tool your team should use?

Well, we're here to help! These tools allow you to build your company knowledge base, share internal documentation, create employee onboarding checklists, and more. We're going to compare the features, collaboration capabilities and price to help your team pick the tool that's right for you.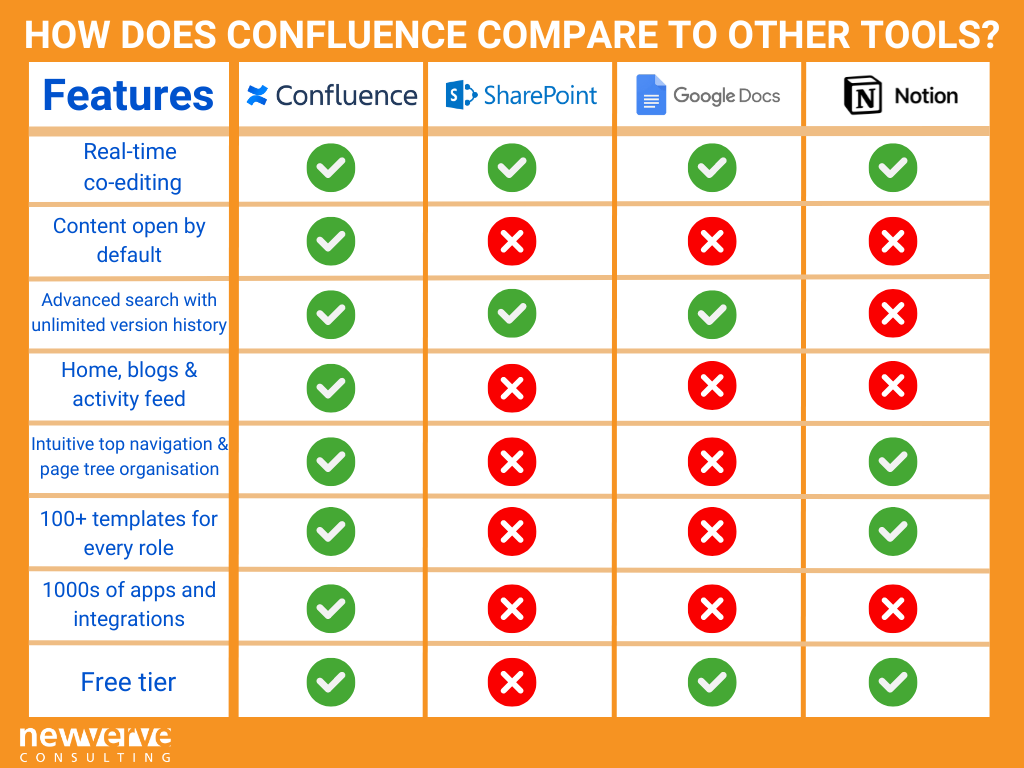 An introduction to the tools
Confluence is Atlassian's wiki offering and having launched in 2004, it's gained a pretty loyal following over the years. Confluence is a remote-friendly team workspace where teams can build, organise, and collaborate in one place.
SharePoint is a web-based collaborative platform launched by Microsoft. The tool is used as a document management and storage system but is highly configurable and can be customised across organisations.
Notion is a productivity and note-taking web tool developed by Notion Labs Inc. It offers collaborative organisation capabilities that allow you to centralise your knowledge.
Finally, Google Docs is an online word processor and collaboration tool from Google. It offers remote collaboration and a sharable document database.
Collaboration
A large part of the appeal of these tools is their collaboration capabilities; each of these apps provide real-time co-editing and inline comments, which facilitate your team working together from anywhere. However, they each have their own collaboration strengths and weaknesses.
Sharepoint does have built-in approval workflows to get the signoffs from stakeholders but Confluence's content is open by default and easily discoverable to anyone in the team. Don't worry though, Confluence does offer the functionality to close page permissions so that confidential information can be kept that way.
With Google Docs, files can also easily be shared however this has to be done manually, potentially leading to missing unshared files.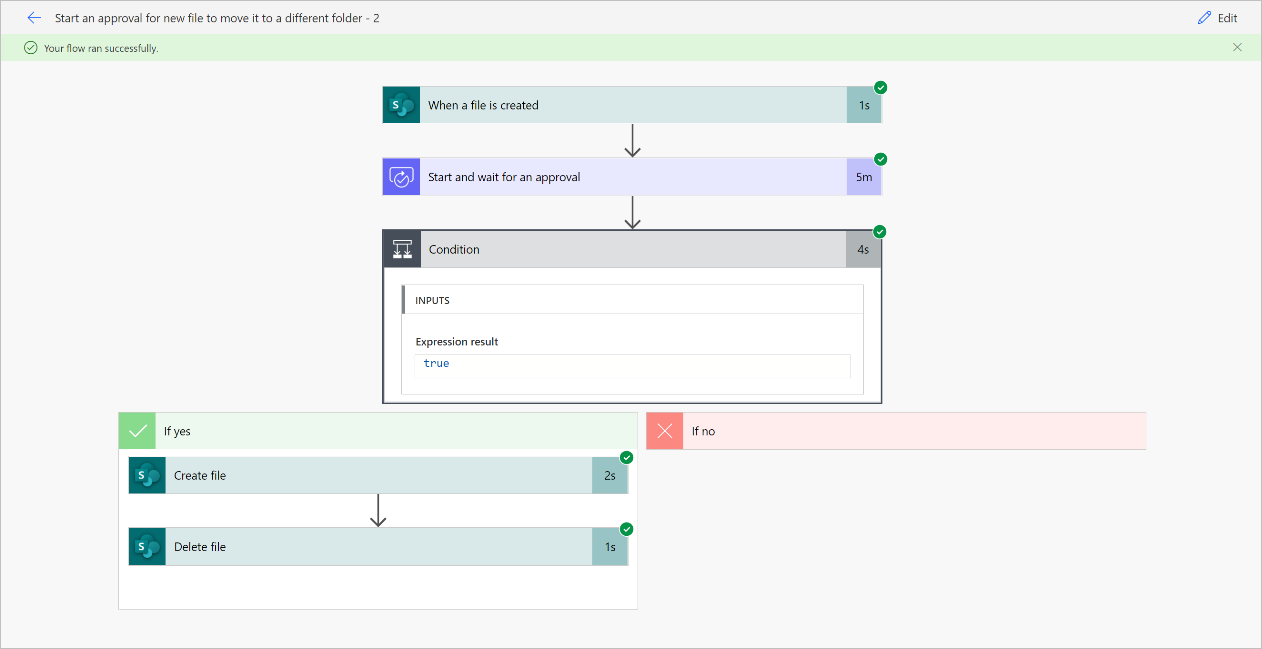 Unlike Notion (which enables editing on all content by default) Confluence has a draft and a published mode, making it easier to prevent accidental edits. Notion control features are also limited compared to Confluence, in which you can create permissions, set controls, and assign admins roles across all paid plans. Plus Confluence's unlimited page history compared to Notion's just sever days means any accidental changes that are made can easily be reverted.
Confluence's open structure allows teams to create a single source of truth that can be shared across the entire company while getting instant feedback with comments, activity feeds, home, and more.
Structure
Confluence, SharePoint, Notion and Google Docs are all structured differently and can provide varying degrees of functionality.
Confluence provides a clean, intuitive interface that is easy to get the hang of. It has simple top navigation and page tree for organisation, plus a homepage with an activity feed and recent work alongside a powerful search bar so you can always find what you're looking for. The tool is easily scalable too so it can grow with your company.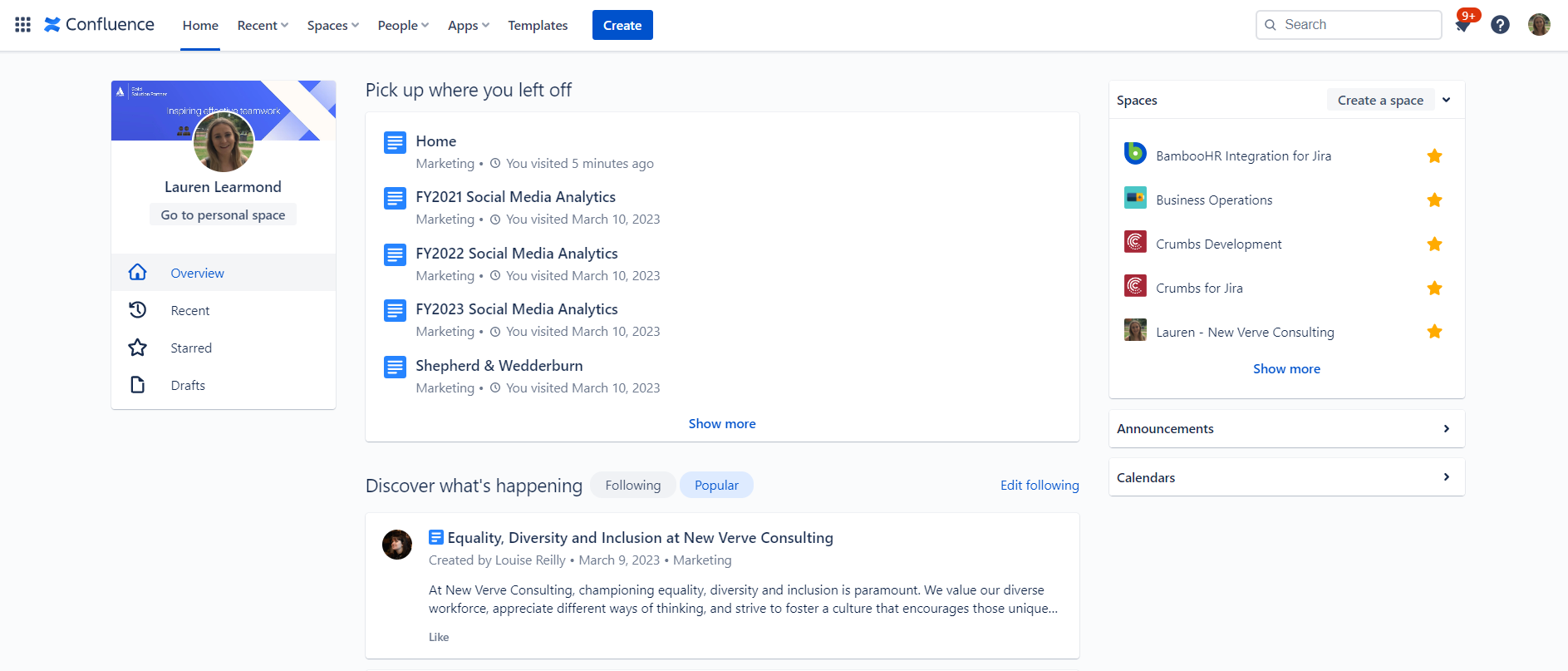 While SharePoint also offers a full-featured intranet platform with visual customisation options, these features come with a steep learning curve that takes some getting used to. This additional functionality SharePoint can provide is powerful but it may not work for every team and certainly doesn't provide an out-of-the-box set-up.
Notion offers everything from databases to kanban boards but as the tool grows, information becomes harder to find. In Confluence, spaces are organised and old pages can be archived, keeping information easily searchable and accessible leading to 96% of people who used Notion saying Confluence is more scalable across the entire organisation.

Similarly to Confluence, Google Docs has a searchable shared drive so your team can share and save documents in organised folders. However, this is a simple offering that requires manual set-up and lacks the more advanced features that make your life easier.
Integrations
One way to power up your tools is through integrations and all these apps have their own database of useful tools and apps that can be added on.
Confluence, of course, seamlessly integrates with other Atlassian products, such as Jira and Trello, which makes it easy to manage projects and document them in parallel. However, it also integrates with popular tools such as Google Drive, Slack, Miro, Microsoft Teams, Refined Toolkit, ScriptRunner, and Draw.io with 600+ new apps being added to Atlassian Marketplace every year. The integration possibilities with Confluence are endless.
SharePoint natively integrates with Microsoft Office products including OneDrive but, like Confluence, there's also a range of external products that can be explored on Microsoft AppSource.
You can find all the Google Docs add-ons in the Google Workspace Marketplace, including writing tools such as Grammarly or SEMrush. Google Docs also provides powerful interactive tools that allow you to import different files such as Microsoft Word or PDFs and easily and instantly edit them with Docs.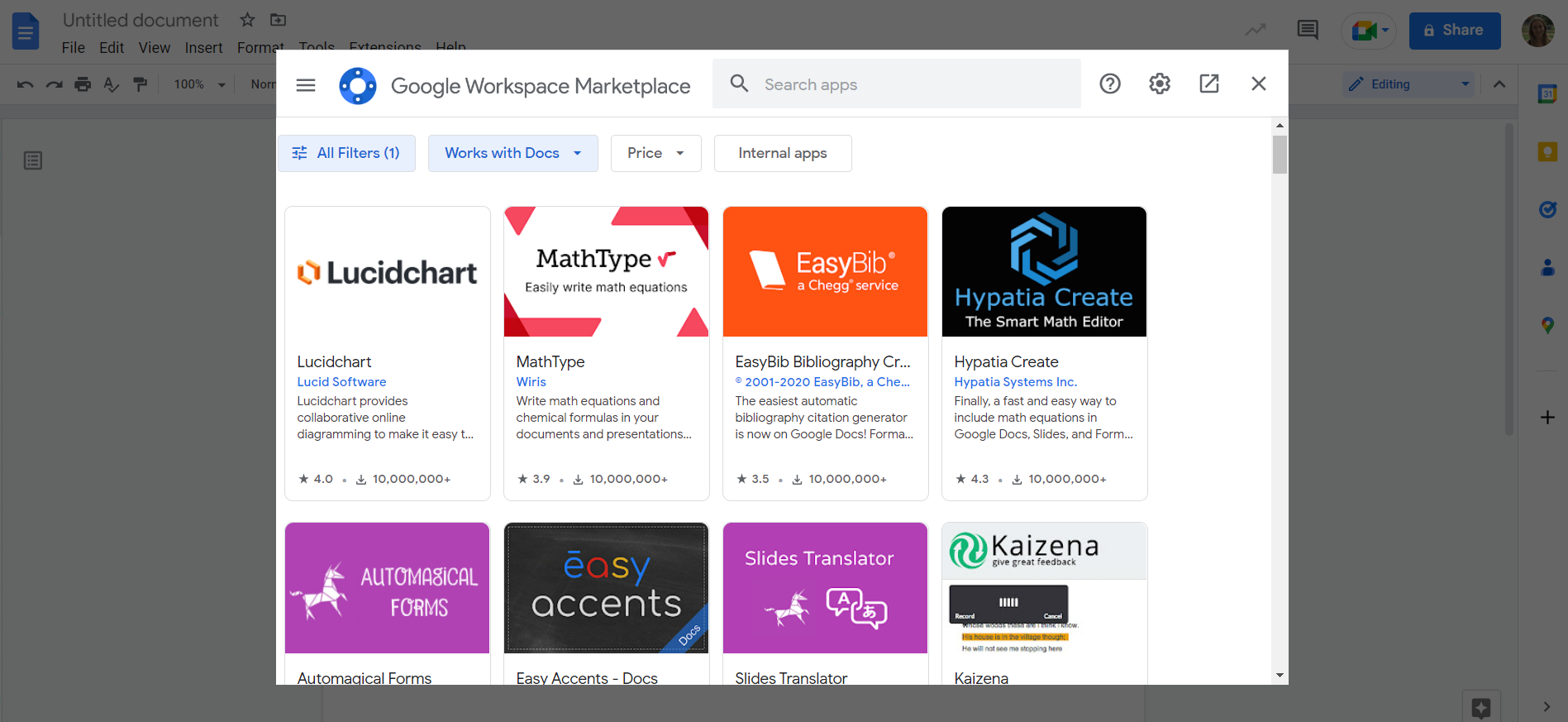 Similarly, Notion provides in-house integrations for Atlassian products, Google Drive and OneDrive, alongside its marketplace of partner-made integrations. However, these are not extensive and in fact, 95% of Confluence customers who also used Notion said Confluence's integrations with other tools are better.
Customisation
The beauty of these tools is that your team can customise them to suit your needs, however, not all tools come with the same levels of functionality.
Confluence comes with a full template library included with every plan and provides an out-of-the-box setup for admins that can be easily personalised. It boasts an intuitive content organisation and, as mentioned, integrates with a wide range of collaboration tools to take things to the next step of customisation.
Google Docs also has extensive and flexible formatting features and a library of templates that allow you to create the documents you need. However, Google Docs is primarily designed for document collaboration, whereas Confluence can be used for a variety of different specialised use cases.
SharePoint offers editor templates as well, along with native simple customisations. However, like Google Docs, SharePoint content creation is limited to certain file formats so it doesn't have the flexibility of Confluence.
Finally, Notion has a range of templates to choose from, as well as extensive customisation features, however, these can take some time to set up and don't come as intuitively as with Confluence.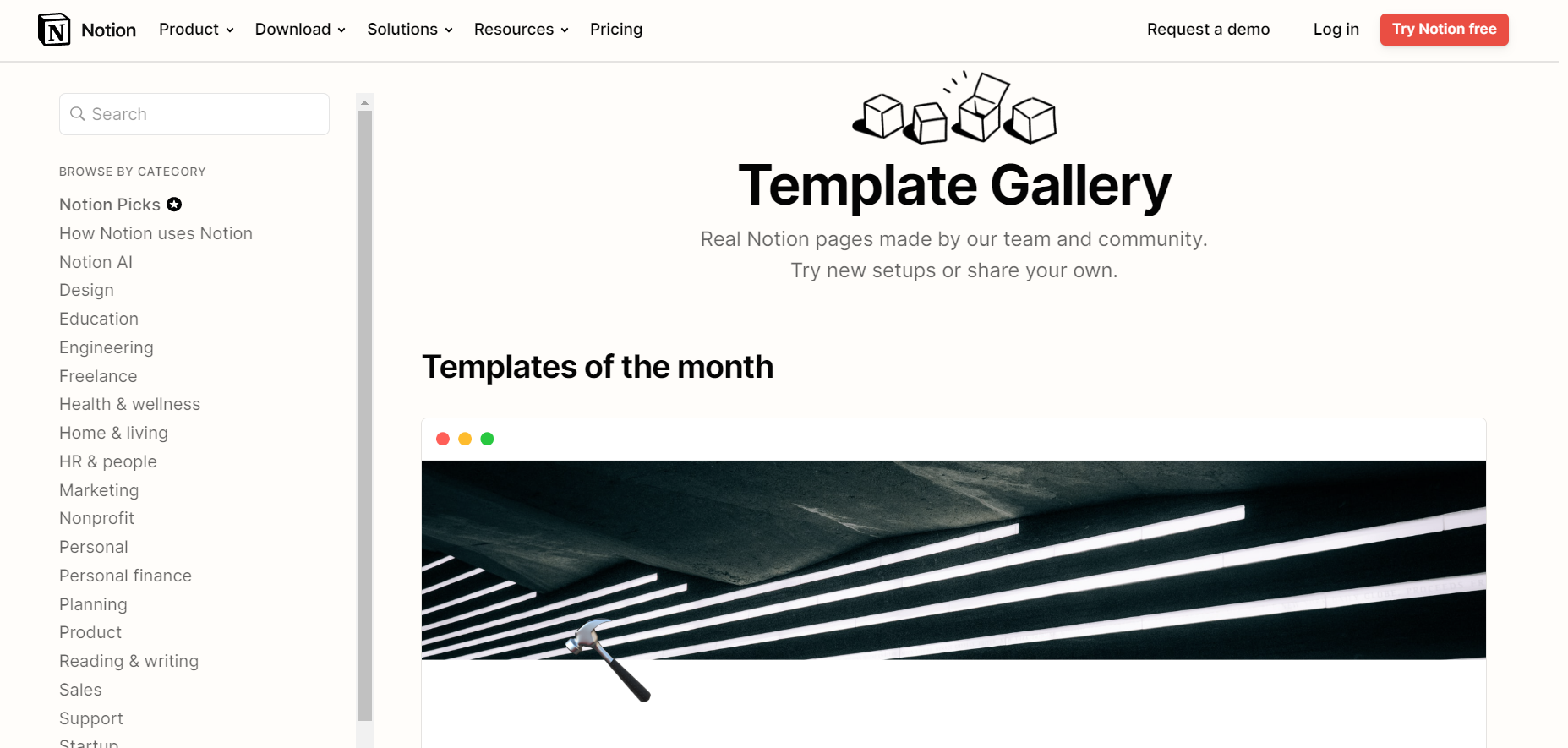 Price
Cost is always an important factor when comparing business tools and documentation tools are no different. So here's the breakdown of prices for each of the compared tools:
Confluence is always free for up to 10 users then additional users are $5.50 per user per month
SharePoint costs $5.00 per user per month
Notion also has a free tier for up to 10 guests but then starts at $8 per user per month
Google Docs is free for an individual plan but a team plan starts at $6 per user per month
Roundup
All the tools we've compared offer their own benefits and drawbacks but for many years now, Confluence dominated the market of online collaboration and documentation tools and for good reason! Confluence is a powerful team documentation tool. It enables you to set up your private wiki or internal knowledge base, create an employee handbook, collaborate on docs and meeting notes, organise your project documentation, and much more.

Not only that but Confluence is a robust project management tool, that drives collaboration at every step.

Take a look at our products page if you want more information about getting started with Confluence. Or, if you need any help along the way, you can speak to one of our Confluence experts.

]]>