New Verve Presents Atlassian in Scotland 2020 Webinar Series
Like everyone in 2020, New Verve's plans were disrupted by the COVID-19 pandemic and we had to embrace the world of online events. Our annual, in-person event, New Verve presents Atlassian in Scotland 2020 was scheduled to take place in Glasgow on 10 March 2020. However, as the number of cases was accelerating rapidly at this time, we decided to cancel the event for the safety of our delegates, partners and sponsors.
After adjusting to life in lockdown and working from home, we were able to transform the event into the New Verve presents Atlassian in Scotland 2020 Webinar Series, a series of six online webinars starting in July and taking place across the latter half of 2020.
The theme of the Atlassian in Scotland 2020 Webinar Series was IT Service Management (ITSM). ITSM is a concept for IT teams to manage the delivery of IT services to customers, with the key focus being to deliver a service based on customers' needs. The webinar hosted a range of experts from across the industry to present and discuss topics spanning all processes and activities involved in designing, delivering, and maintaining IT services.
Industry Experts Presenting Best Practices
The series was able to integrate most of the presenters and panel members from the original, in-person event along with some new content from additional speakers. The aim of the webinars was to explain how, using Atlassian tools and best practices, you can build a robust, lean and agile ITSM solution for your business. Our presenters discussed their successful approaches to ITSM and displayed how you can apply their processes to your solution.
We began with Atlassian's approach to ITSM and learned how Atlassian tools and best practices can help you to adapt to new ways of working in a world of digital transformation, Agile, and DevOps. This was presented by Joachim Fuchs, Pre-Sales Solution Engineer at Atlassian.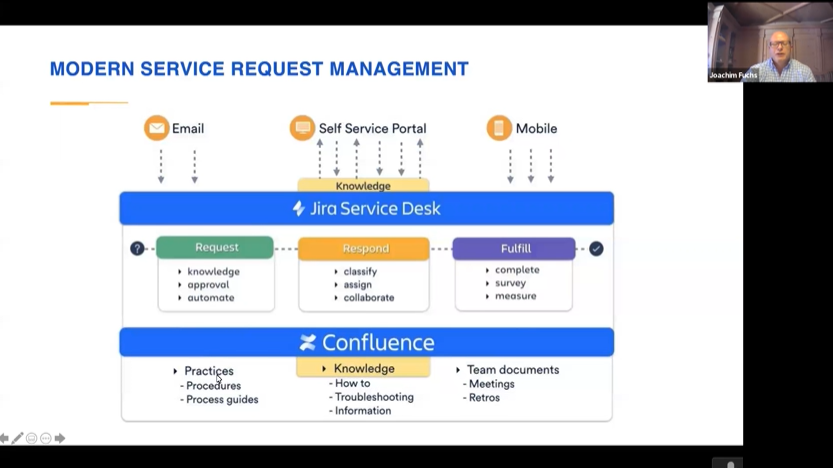 Throughout the series we learned about other approaches to IT service delivery, including ITIL and more specifically the latest iteration, ITIL4. The discussions included the evolution of the ITIL processes while explaining the changes in the grouping and structure that have lead to ITIL4 and the role of automation within the practices was highlighted. The presentations explained how to adapt your practices and tools to new versions of ITIL and how to get the most out of ITIL with Jira Service Management.
Showcasing Atlassian Products and Partner Tools
Atlassian ITSM tools and solutions were at the centre of the series and our presenters demonstrated how products like Jira Service Management, Jira and Confluence are key in an agile and collaborative ITSM approach. This was displayed when Lorraine Brown shared how Capita Consulting uses Jira Service Management as one of the key components in delivering their client support service.
We also got to hear from our partners, eazyBI, Refined and Insight who were the sponsors of our original event. The presenters demonstrated how their products work alongside Atlassian tools and we saw examples of how the tools have enhanced our customers' IT service delivery processes.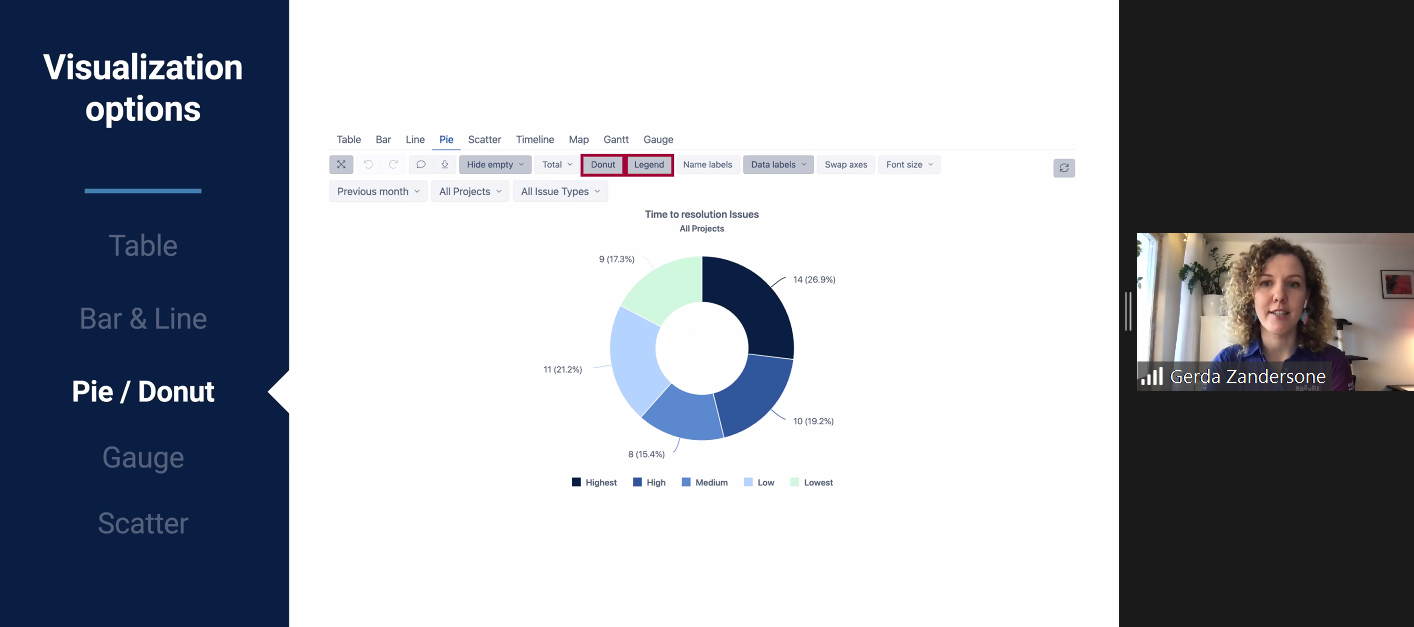 Presenting Customer Success Stories
Our webinars also hosted some New Verve customers who were able to present their ITSM success stories. Stephen Neil, IT Infrastructure Lead at Mary's Meals explained how, with the help of New Verve, the Scottish charity were able to introduce Jira and Jira Service Management to help them deliver an efficient global support service. Stephen also explained how they were able to work more agile with their suppliers, drive self-sufficiency and manage the movement of their assets through Insight.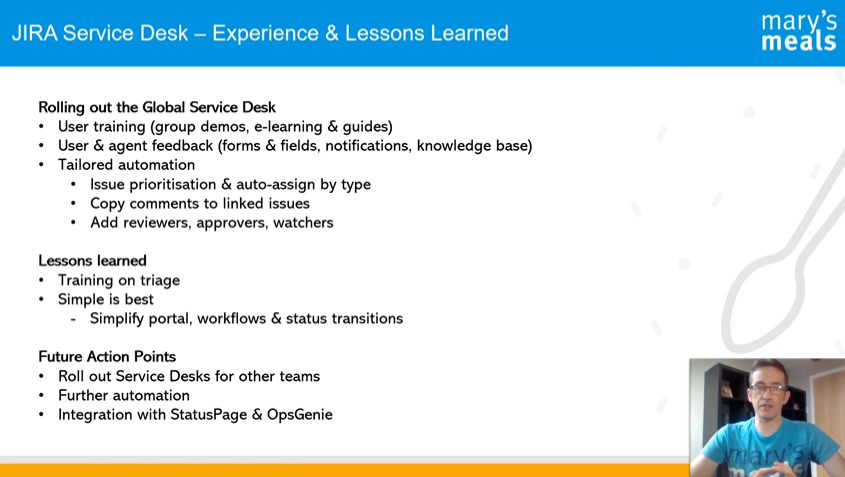 As mentioned previously, we also learned how our partners' tools work alongside Atlassian software to enhance our customers' ITSM solutions. We heard from Peter Hinds, Synergy Learning's Head of Operations about how they have used Refined to build a robust ITSM solution. New Verve's own Head of Operations, Kris Siwiec also presented Cloud migration considerations for ITSM reporting in eazyBI using customer examples. These considerations are of greater significance as Atlassian move further towards becoming a Cloud-first organization.
Engaging in Insightful Discussions
The series gave our audiences an opportunity to ask the ITSM experts their questions on the topic in a Q&A session at the end of each webinar. This allowed our presenters to engage in insightful discussions and give their opinions from across the industry. This was especially the case in our panel discussion webinar where our panellists explored how IT teams can create value at speed, covering the future of IT and how to break down silos, adapt quickly, and be more agile.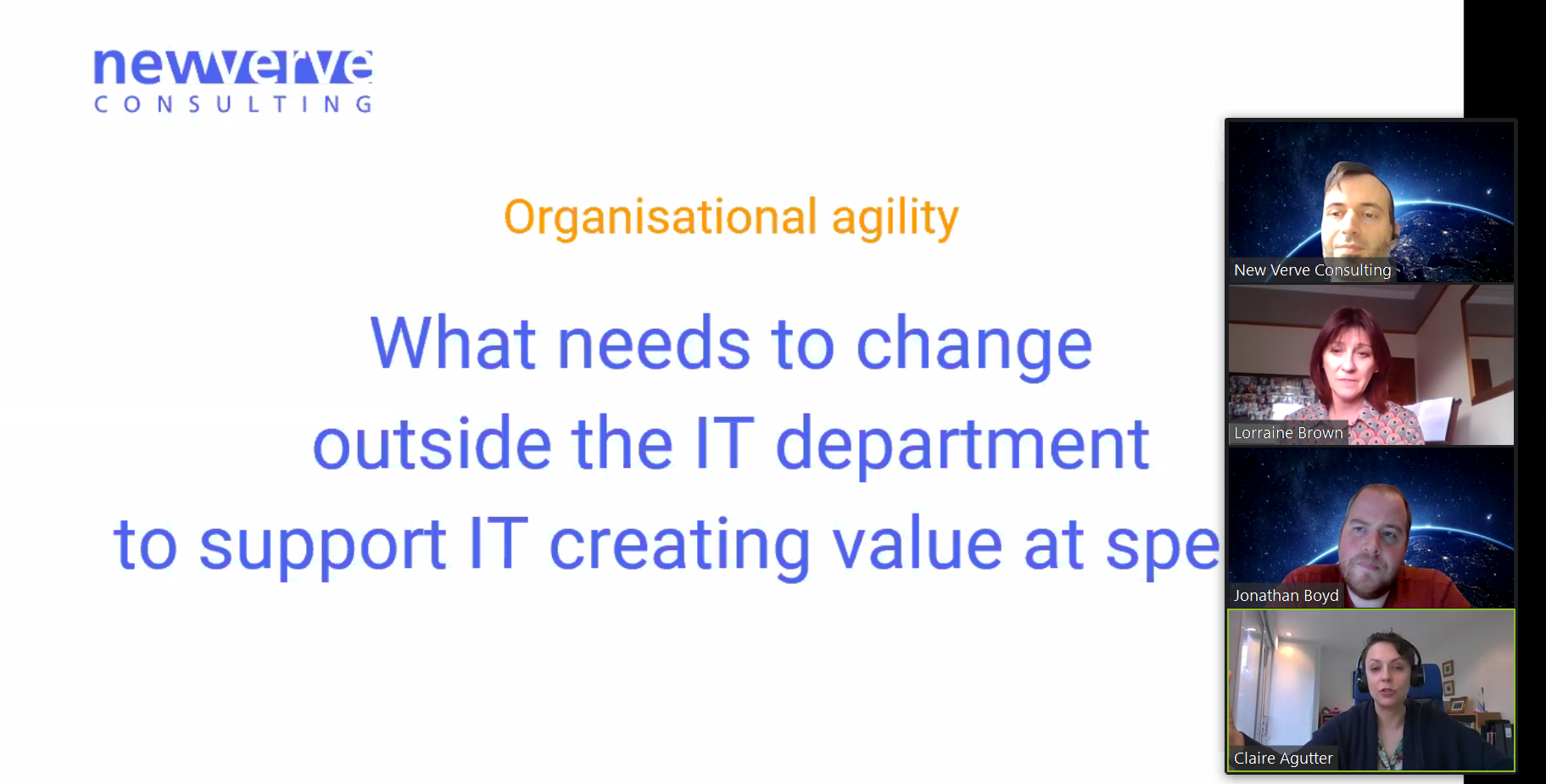 Creating a Successful Webinar Series
New Verve want to thank all of our fantastic presenters for helping to make our first webinar series such a success. We'd also like to thank our attendees for joining us, asking great questions and providing useful feedback.
The New Verve presents Atlassian in Scotland 2020 Webinar Series provided expert knowledge and demonstrations of Atlassian IT Service Management solutions and best practices and gave attendees the resources to build a robust and agile IT service delivery team. The series allowed us to maintain Atlassian in Scotland's commitment to sharing the knowledge from local Atlassian experts while also upholding our gender diversity commitment (we were able to preserve a near equal split between female and male presenters) and bringing together teams from across Scotland's Atlassian ecosystem to collaborate, discover and have fun!
Watch the series now
The full webinar series is up on our YouTube channel for you to watch and share!
Keep an eye on our events page where the announcement of our next webinar series will be coming soon! #TartanTeamwork
---
---