Atlassian in Scotland 2019 - Event Summary
New Verve Consulting were delighted to host the inaugural Atlassian in Scotland conference on the 19th March 2019 at the Technology and Innovation Centre, University of Strathclyde, Glasgow. The event brought together Atlassian users, vendors, partners and product evangelists from across Scotland and from wider afield to exchange knowledge and share insights of the Atlassian product suite. With over 70 delegates in attendance from a range of public and private sector companies, the event enabled the Scottish audience to collaborate, discover and network with like-minded professionals with the same aim: to explore how Atlassian solutions can inspire effective teamwork!
Check out the Atlassian in Scotland 2019 social story on wakelet!

Unleashing the potential of every team
With a central theme of Project Portfolio Management, an exciting programme of keynotes, product demos and a thought-provoking panel discussion was arranged throughout the day. Nigel Rochford, Managing Director of New Verve Consulting, welcomed delegates to the first ever Atlassian in Scotland event and set the scene for the day ahead. Feico Mol, Head of EMEA channels at Atlassian, acted as MC and panel host and opened by outlining Atlassian's mission and core values. The recent acquisition of AgileCraft by Atlassian was announced, with Feico explaining Atlassian is now better equipped than ever to scale agile to the enterprise.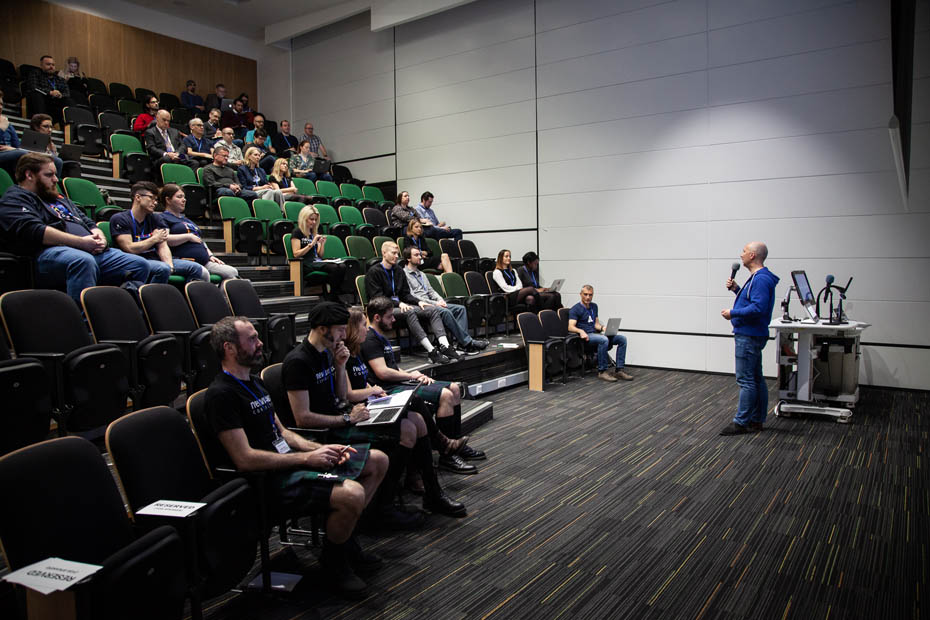 Scaling agile leads to business success
The first keynote of the day was delivered by Giulio Iannazzo, Solutions Engineer at Atlassian, who continued with the importance of scaling agile for enterprise. The journey that organisations embark on to become increasingly agile requires acceptance that the world is uncertain, scaling agile isn't only about tools and of the importance between growing and transforming. Giulio explained that properly laid foundations for scaling agile leads to business success; these include visibility, evolution, decision making (by those closest to the problem), structure and the power of a team of teams. Alignment requires insight without stifling innovation. Giulio finished by exploring how Portfolio for Jira enables the enterprise to gain visibility across all teams and projects.
Presentation: Scaling agile with Portfolio for Jira - Giulio Iannazzo, Atlassian
Distributed team cohesion and inclusion
Darline Auguste, APAC & EMEA Community Manager at Atlassian, shared with the audience 5 tips for working effectively as a distributed team. Expanding on Atlassian's mission to unleash the potential of every team, Darline stressed the importance of staying connected, over-communication, involving everyone, being considerate and to level the field. Tools from the Atlassian product suite (principally Confluence and Trello) along with Slack and Zoom were instrumental in enabling distributed team collaboration, organisation and communication. Adopting the mentality of taking ownership and the realisation that it's not only up to your teammates, Darline concluded that you are the key to unleashing the potential of your organisation.
Presentation: Tips for working effectively as a distributed team - Darline Auguste, Atlassian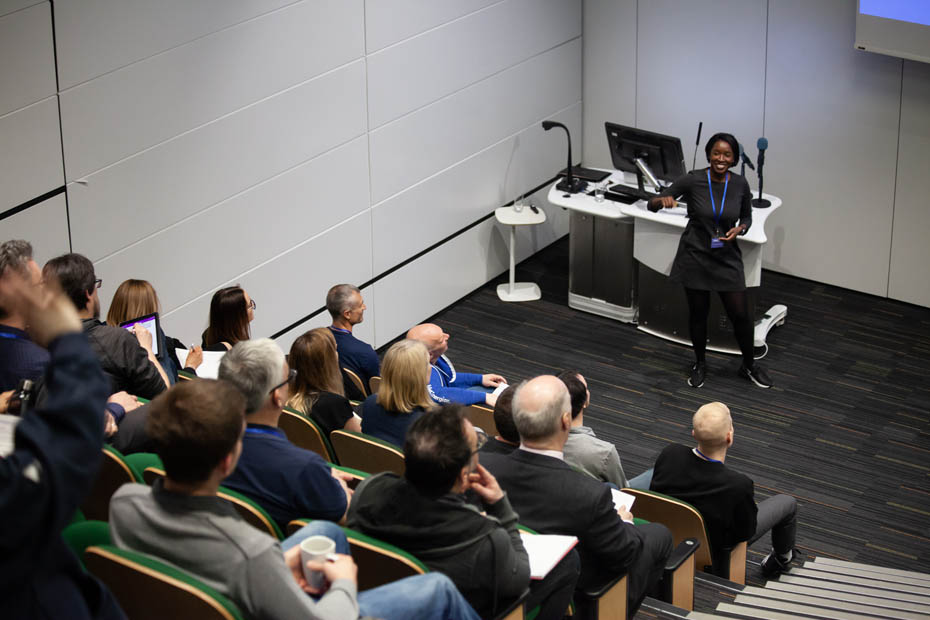 Tempo and Jira
Next up were Eyglo Oskarsdottir, Sales Manager at Tempo Software and Thorunn Oskarsdottir, Solutions Architect at Tempo Software, who demonstrated how teams can achieve strategic objectives with Tempo and Jira. Eyglo and Thorunn discussed how it is possible to gain insights into potential returns on a project whilst enhancing transparency and gaining real-time insights into scope, resources and timeline. Eyglo and Thorunn highlighted the event theme of project portfolio management as a way to ensure that a company's work contributes to its goals. Jira as a tool provides the building blocks and the Tempo software suite better enables Pipeline Management (Tempo Budgets), Resource Management (Tempo Planner), Financial Management (Tempo Budgets), Change Management (Tempo Budgets) and Risk Management.
Customer journey implementing the Atlassian product suite
The final presentation before lunch was from Peter Hinds, Head of Operations at Synergy Learning. Peter discussed the reality of implementing Atlassian software in a growing organisation and how Synergy Learning uses the Atlassian product suite to create globally leading learning management systems and e-portfolio software.
It was really interesting to learn how a company with hyper growth has standardized on Atlassian to facilitate project delivery and support future growth. Synergy Learning started on their Atlassian journey with Bitbucket for code reviews and Jira was next introduced for the development team alongside various supporting 3rd party applications. Ultimately, the number of tools was becoming a hindrance and with the help of a long-term partner, Synergy Learning decided to scale and standardize using Atlassian software.
Presentation: Our experience with implementing the Atlassian product suite - Peter Hinds, Synergy Learning
Challenges with digital management tools
After lunch Andriy Stukan, Technical Consultant at Accenture discussed an interesting statistic "75% of PMS use two to five total tools for project management". Andriy explored day-to-day planning with Jira and collaborating with Confluence and Trello, addressed the challenges that project managers face when it comes to tooling and how Atlassian software can solve them.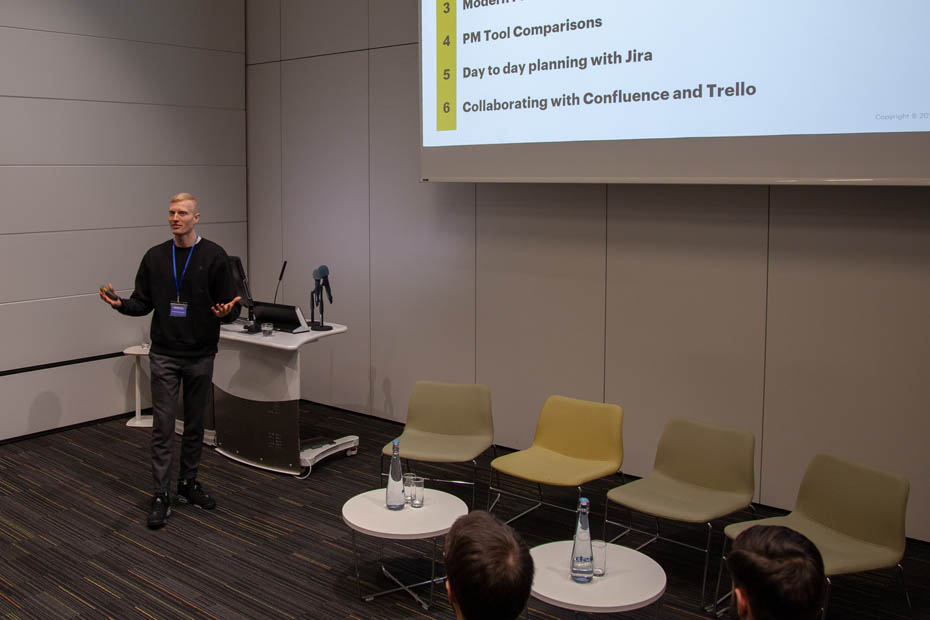 Perfect project reporting?
Janis Plume, BI Consultant at eazyBI illustrated how to create project reports for Jira using eazyBI. EazyBI allows the user to gain insights into project status, progress and forecasts. To achieve perfect project reporting Janis recommended consistency, continuity, availability and effortlessness.
Presentation: Project reporting for Jira - Janis Plume, eazyBI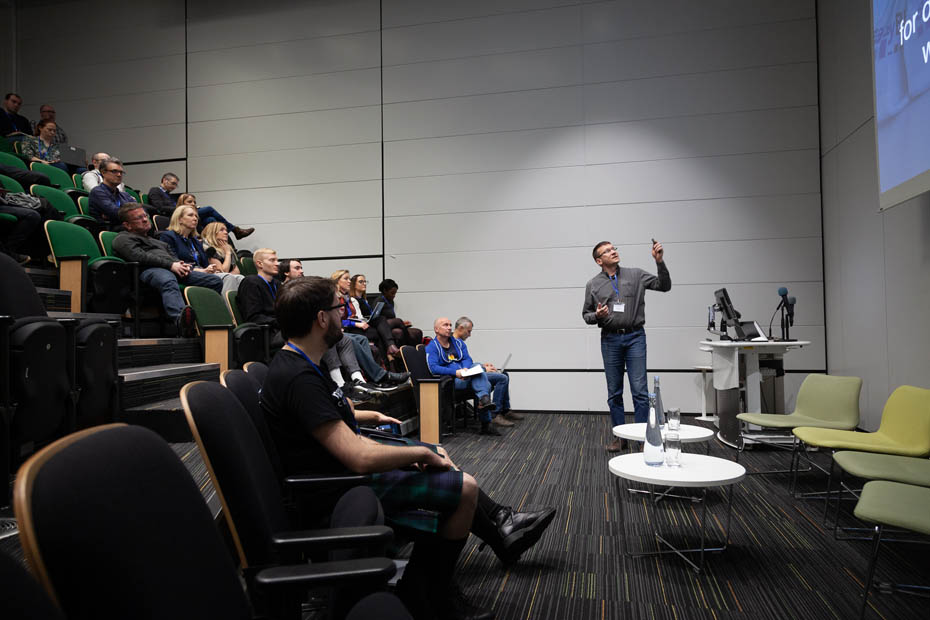 Project portfolio with BigPicture
The final keynote of the event was delivered by Jerzy Sekula, Product Owner and Business Analyst at SoftwarePlant. Jerzy introduced the BigPicture product suite and examined how BigPicture facilitated project portfolio management. Waterfall, Agile and hybrid project management methodologies can all be adopted within BigPicture. Jerzy closed by highlighting the use of SAFe in BigPicture and the portfolio management, resource planning and risk management features.
Presentation: Project portfolio management with BigPicture - Jerzy Sekula, SoftwarePlant


Panel discussion - how can Agile, governance and the PMO work together?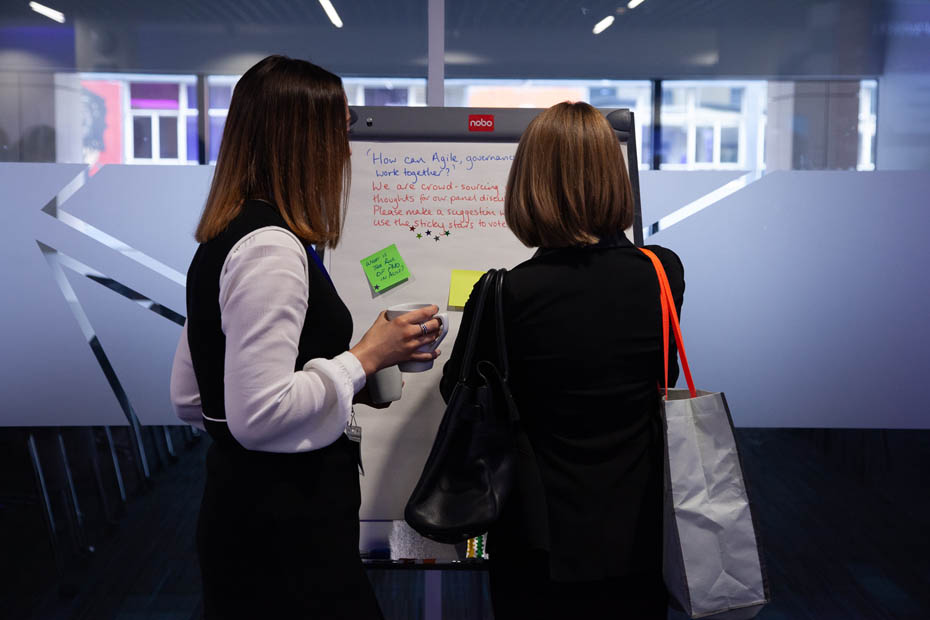 A lively and insightful panel discussion followed the keynotes which was based around questions submitted by the audience over the refreshment breaks. Philippa Christie, Production Manager at Equator, Sorcha Lorimer, Founder of Trace Data Ltd and Anthony Christensen, Agile and DevOps Centre of Excellence Lead at RBS made up the panel. The overall discussion was around 'How can Agile, governance and the PMO work together?' with the audience keen to learn more about "what is the role of the PMO in agile?" and "how to stop metrics being misused".
Philippa stated that from her experience the nature of work and client demands drives the approach companies adopt, resulting in not always being able to use Agile methodologies. Philippa also felt it was important for people to feel empowered and comfortable raising concerns, something which the PMO should encourage as the role of the PMO is to proactively make things better.
Sorcha reminded delegates to be inclusive and to go at the pace of the whole organisation when implementing agile. The use of language was also very important. With regards to metrics, Anthony suggested we keep it simple and to ensure you know what the metrics are for and why you are reporting. Anthony also asked the question of how best to encourage a large organisation to implement Agile in a consistent way and is this something we should be doing?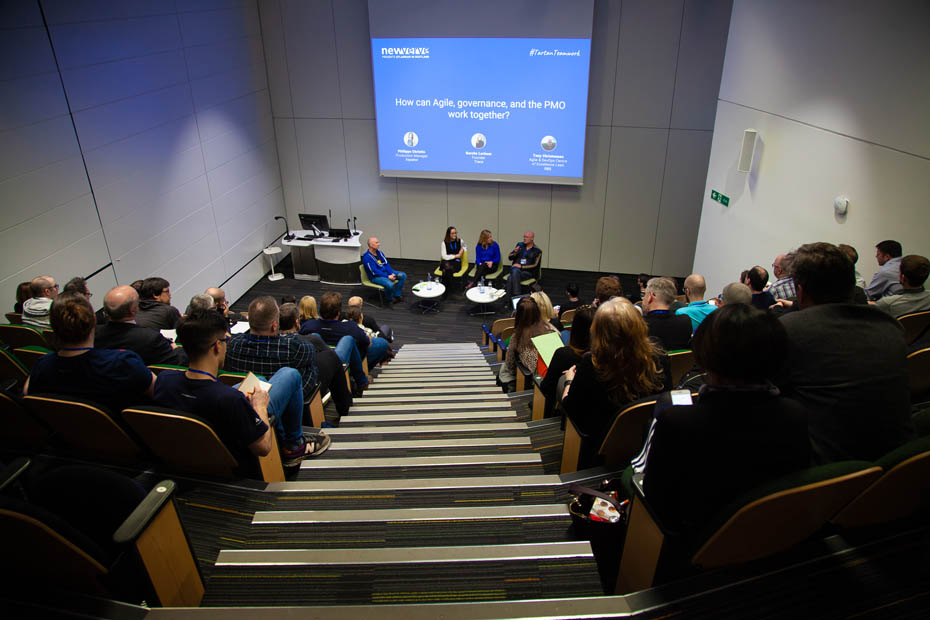 Other key takeaways from the panel discussion included the importance of a PMO to facilitate and not to dictate, to focus on the outcomes and to consider the best fit for your organisation and objectives.
In addition to engaging keynotes and panel discussion, Atlassian in Scotland provided a valuable opportunity for Scottish businesses and fellow Atlassians to exchange ideas and to discuss the personal challenges encountered around project portfolio management. The New Verve team were in demand at our booth throughout the day showcasing the Atlassian product suite in action and exploring any queries the event delegates had in relation to the tools. Tempo, eazyBI and SoftwarePlant were also exhibiting and on-hand to discuss issues ranging from how best to schedule resources, manage budgets and track time to creating business intelligence data reports and dashboards, and Jira project management plugins. Everything was covered!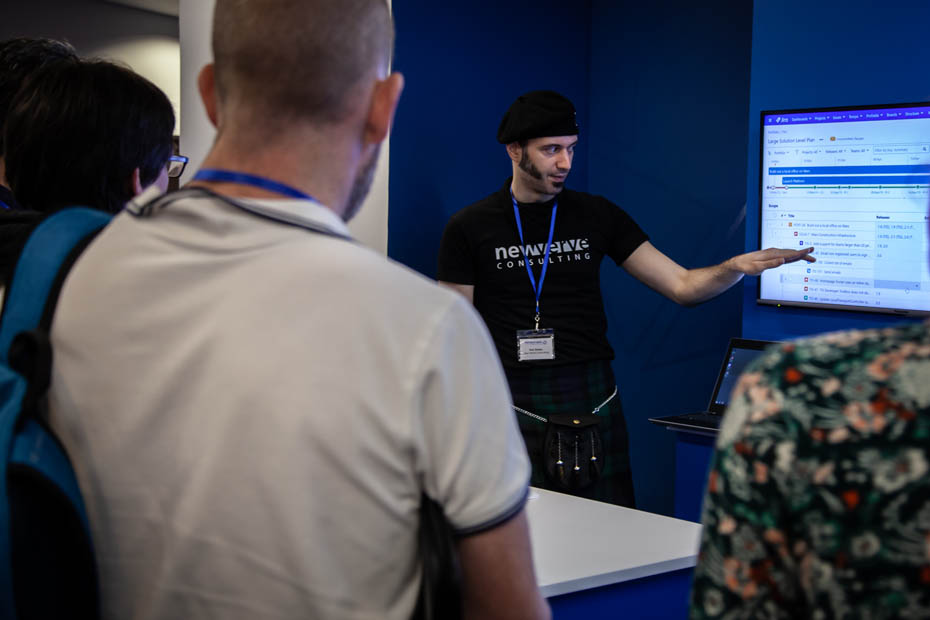 A drinks reception followed the main event which allowed delegates, speakers and panellists a chance to relax and unwind after the conference. Discussions continued over a glass of wine and a beer in the airy surroundings of the atrium.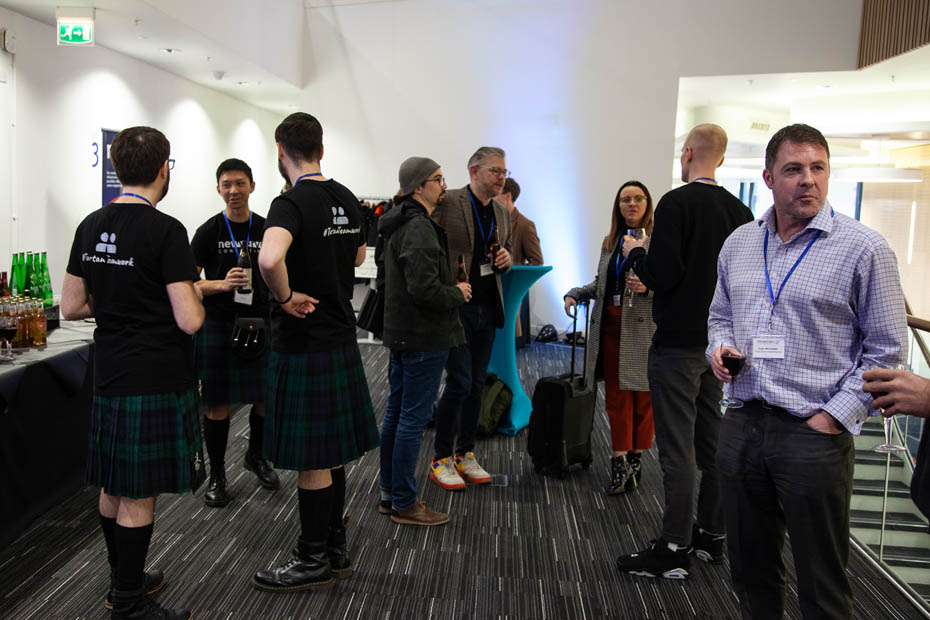 Evening event - Atlassian User Group
The Edinburgh Atlassian User Group changed location and tied in with Atlassian in Scotland with an informal evening AUG event. Tempo, SoftwarePlant and eazyBI stayed on and presented to the user group. With beer, pizza, conversation and swag it was the perfect way to wrap up the first ever Atlassian in Scotland conference!
New Verve would like to thank Atlassian, all the speakers, panellists, vendors and the delegates for making the inaugural event such a success.
Atlassian in Scotland 2020
Would you like to be involved in Atlassian in Scotland 2020? We are in the early stages of planning next year's event and we would like you to be part of it! We are sourcing speakers, sponsors and panellists and aim to make Atlassian in Scotland 2020 even bigger and better than the last. Contact us for more information and watch this space for speaker blogs and exciting developments in relation to the next event. See you next year!
---
---