How to improve operational efficiency using Jira Service Desk and Insight
In this guest blog, Sandra Axelsdottir, Channel Manager at Mindville explains how to manage high service request volume and drastically reduce ticket resolution time using Jira Service Desk and Insight. Sandra will be presenting and hosting a technical workshop at our forthcoming ITSM-related event, New Verve presents Atlassian in Scotland 2020 on 10th March in Glasgow.
ITSM tools aren't solely about streamlining how you manage your IT services, support teams, and other technical components of your business. They can also boost your overall operational efficiency and help you deliver a superlative IT-based customer experience.
ITSM processes are all about supporting the implementation, administration, and innovation of your customer-centric IT services. To do so, you'll need software that meshes well with your ITSM platform of choice, such as Jira Service Desk and Insight, to meet your organization's needs.
Let's start with the most obvious efficiency benchmark for back-office operations: How well (or not) it can manage a high volume of incoming service requests.
Zendesk reports that internal support teams receive an average of 492 tickets per month. That's just shy of 6,000 per year. This can be overwhelming for even well-staffed service desk teams to accommodate, especially if they're relying on outdated technology or (gulp!) manually updating spreadsheets to get the job done.
With the right ITSM tools at your disposal, you can leverage functionality like automation triggers, custom fields, precise workflows, and IT asset dependency mapping to respond to service requests in a prompt and meaningful manner.
Many of those same features I just mentioned also apply if you're looking to reduce your ticket resolution time.
A lot of the same ITSM tool features that help you to manage high service request volume also play a part in slashing your resolution time. They all combine to furnish your service desk staff with a single source of informational truth, which speeds up the process of pinpointing the root causes of issues and implementing the appropriate fixes.
Jira Service Desk and Insight - Your ITSM Solution
Jira Service Desk (JSD) and Insight can be used as an ITSM solution, to help manage high request volume and speed up the meantime to resolution.
JSD and Insight are tightly integrated, where JSD is for managing requests and Insight is for managing the assets related to the requests.
Your CMDB in Insight
When implementing the solution, the first step is to build a custom structure of your infrastructure in Insight.
Your assets can be imported into Insight from the data source of your choice, using one of many integration options offered in Insight. The image below shows an example of the IT assets structure (object schema) in Insight.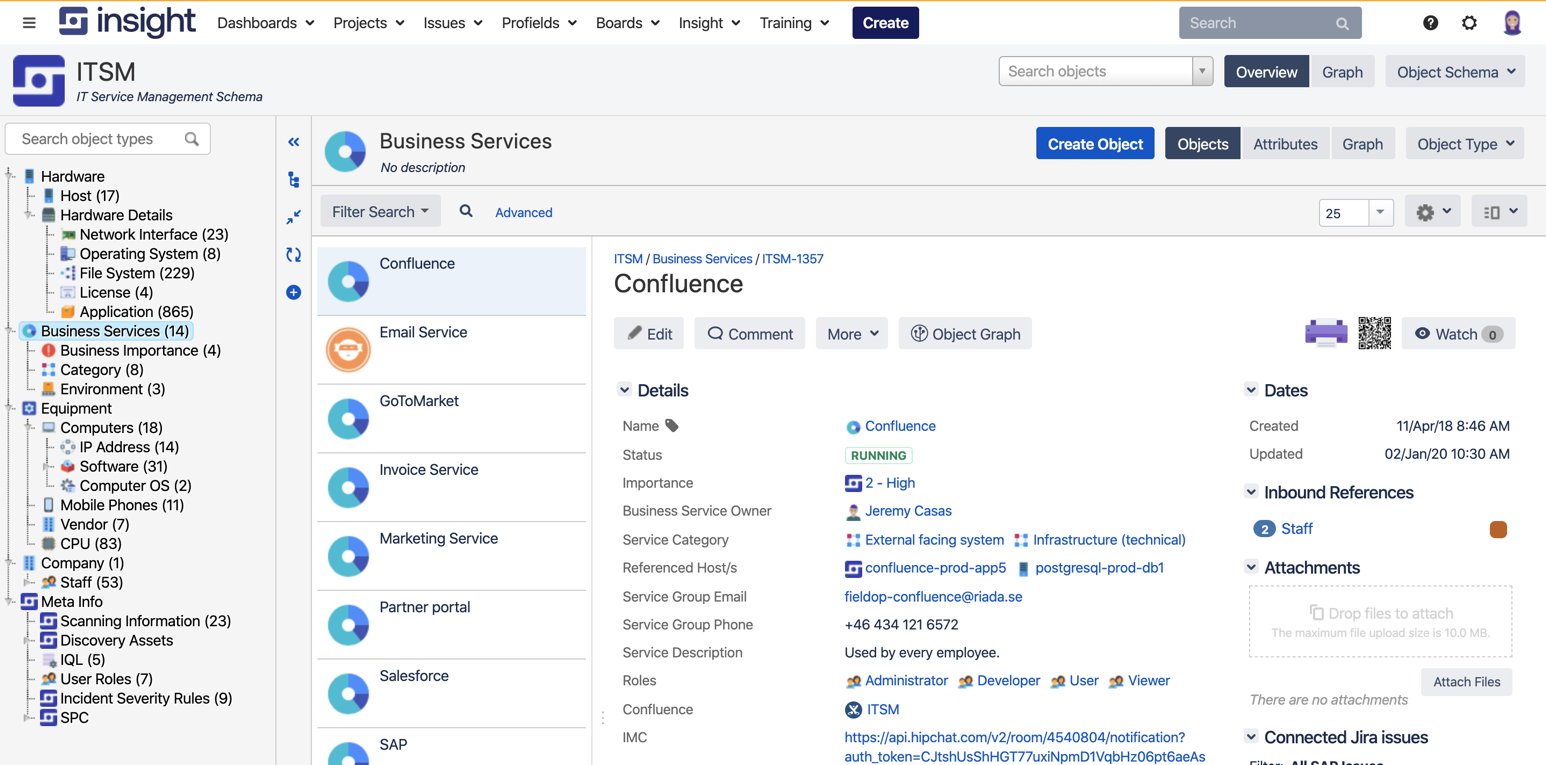 When building your structure, you can customize your hierarchy and asset attributes to fit your needs, and from that create the relationships (references) you want between your asset types (object types). Once you have modeled your data, you can view all the relationships in a graph at different levels.
Below we have a graph showing all the relationships for the Business Service asset type from our structure above.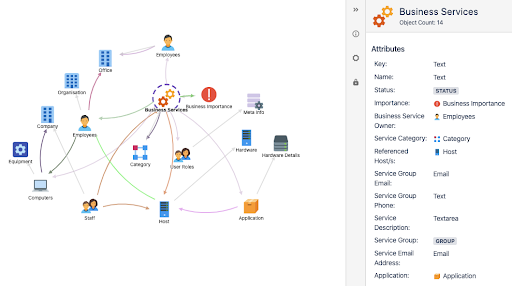 The lifecycle of an Incident
Now let's take a look at an Incident workflow in JSD, from the time an Incident is raised, reporting a failed service, until the service is up and running again.
The first step is to raise the Incident. When raising the Incident, we can see the first example of how Insight is integrated with JSD through the Insight custom field.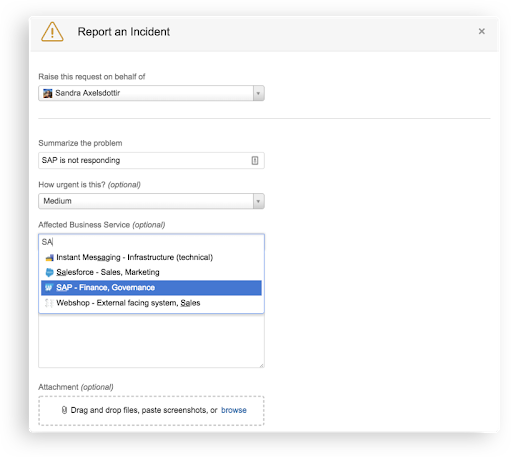 The custom field is configured to show a list of all the Business Services from the CMDB. The user reporting the Incident simply needs to select the affected service from the list and submit the request.
After the Incident is raised, it shows up in the service desk queue for the support agents.
One of the powers of the Insight custom field is that you can display information of your choice about the selected asset and by just a click, the agent has access to all the asset details and it's relationships.
When Investigating the request, the agent might find out that it's actually the host the service is running on that has a problem and needs to be restarted, so he clicks on the "Hardware failure" transition in the request to add the host asset to the request and adds a comment.
When adding the host, the system checks if there are other services affected and adds them automatically to the request as well.
This is all possible due to the structure of the CMDB in Insight, the relationships that are defined and built-in automation.

From the short video clip above, you can see that both service and the host have the status "Incident in progress" after the failure has been confirmed.
When the Incident is resolved, the final step in the process is to transition the Incident to the "Failure resolved" status, which automatically updates the linked assets to a "Running" status.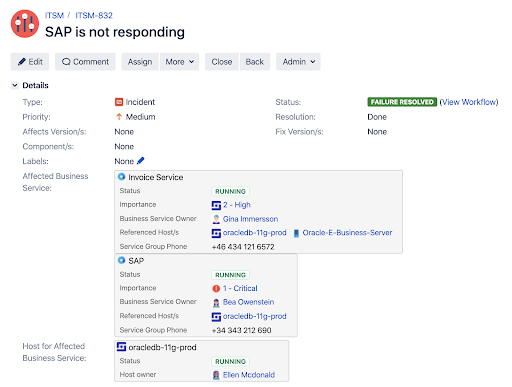 Reports
When managing your assets in Insight, and with the tight integration with Jira, you have a variety of options when it comes to reporting. Let's take a look at three different options when it comes to reporting on assets and issues.
Reports in Insight
Insight provides a powerful report engine, allowing the user to build numerous reports, share them and display data in different formats. It even offers the possibility of customizing your own reports.
One example of an Insight report is a service catalog for business services, displaying selected attributes for the business services.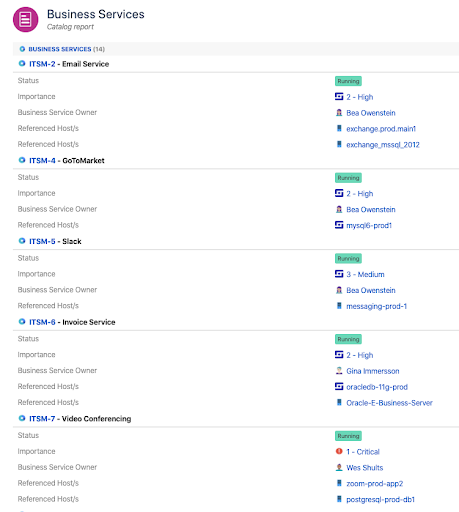 Insight macro in Confluence
The Insight macro for Confluence is an excellent choice when you need to combine Insight data with text in a written report or documentation. The macro is flexible and can display a list of assets and their details based on a query (Insight Query Language) or a single asset with details.
Jira Gadgets
Jira filters and gadgets can be used to display data from Insight and Jira. The image below shows a pie chart gadget being displayed on a Jira dashboard, showing the count of Incidents for each business service.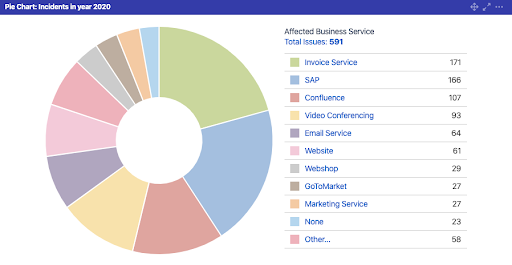 Recap
IT Service Management is becoming more important to all organizations, and they need tools to support their processes.
Insight and Jira Service Desk together are a great option to manage all your requests and assets in one place, allowing you to link your assets to your requests to reduce request resolution time and manage a high volume of requests.
Insight flexibility allows you to build your own CMDB structure and relationship to fit your needs, which helps you to find the root cause of any problem with just a few clicks.
For more information about the Insight product suite or to see the software in action, click on over to the Mindville site or get in touch with New Verve today!
About Mindville:
Mindville builds the Insight software suite, a collection of apps that empower Jira users to work more efficiently and deliver an outstanding customer experience. It's the asset management solution that grows and scales with your business.
The Insight suite is made up of our top-rated eponymous app that puts powerful enterprise asset management at the fingertips of every Jira user. It also includes Insight Discovery, our network scanning tool that helps you import all your infrastructure assets, and our 12 free third-party integration options that make it easy to populate Jira with data from all your external systems. Insight has become a force of nature within the Jira community, and we're excited about what the future holds for our brand, our clients, and the community as a whole.
---
---