Key announcements and highlights from Atlassian Remote Summit 2020
We were excited to be part of Summit this year, albeit from the comfort of our own homes! In such unprecedented and uncertain times, Atlassian made the decision back in March 2020 to switch strategy and host the first ever remote Summit in place of it's annual large-scale off-line event in Las Vegas. By no means an easy feat, on April 1st - 2nd, Atlassian managed to deliver awesome and inspiring content online and the show did go ahead, making Atlassian Summit history and allowing more people than ever to participate in Summit remotely.
With tens of thousands of Atlassians tuning in from over 90 countries, the remote summit had the power to reach and impact a wider audience of Atlassians globally. With exciting announcements in Cloud, Enterprise and within the ecosystem and with loads of insightful content around best practices, customer use cases and product updates, we've pulled together the Summit best bits, showcasing how Atlassian is changing the future of teamwork for all teams.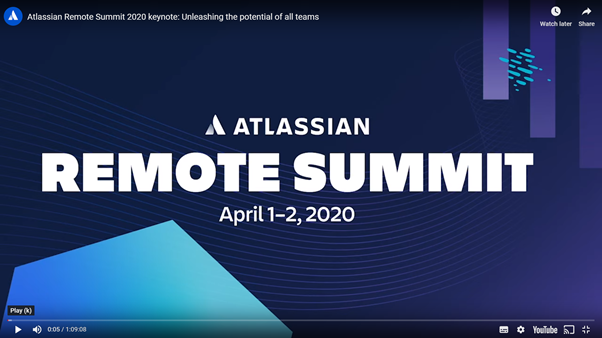 Day One
Available to watch on-demand here.
Unleashing the potential of all teams
Scott Farquhar, co-Founder and co-CEO of Atlassian, opened the summit by detailing the effect the COVID-19 (coronavirus) pandemic has had on business operations globally and on how it has and will continue to impact the way we work. During such a time of crisis, there is an opportunity to come together and ensure organisational success via team alignment, work unification and clear team responsibilities as ultimately organisational success is dependent on alignment between teams and not just the success of one team. In light of this, Scott announced:
ALL Atlassian products will be free for up to ten users per product
One year free Trello subscription for educators
Session 1 - Change faster when Dev and IT change together
"The ability to adapt to change and keep on going is the cornerstone of our digital economy and your digital competitive advantage. Atlassian helps you (the customer) to keep going, operate, innovate, compete"
(Quote from Sean Regan (Head of Product Marketing, Software Teams).
Sean amplified the need for an ecosystem of partner products, solutions and services that deliver real value in order to enable teams to thrive and react to constant change. Atlassian products like Jira and Automation for Jira allow for frictionless interaction between different teams such as Agile, DevOps, ITSM and ITOP's. Various new improvements announced to the product range during Summit are designed to remove friction to ultimately allow teams to "build fast, change fast & fix fast".
New feature announcements:
new Bitbucket dashboards for developers showing pull requests, builds and Jira issues, all in the one place!
Automation for Jira: live status behind the scenes sync of data between Jira and Bitbucket
Code Insights in Bitbucket: new code review capabilities powered by vendors such as mabl, synk and sentry - coming soon
ability for developers to see status of changes directly within Bitbucket
support change managers to see information from CI/CD tool and risk engine in one place within Jira Service Desk
new integrations for ITOP's teams with CI/CD tools such as Jenkins, Bitbucket, CircleCI and Octopus Deploy. A Risk Assessment Engine will be powered by Automation for Jira and helps by automating approvals for change requests and auto-deploying changes for low-risk cases, making it easier for developers to see status of changes directly within Bitbucket and for Support Change Managers to see information from CI/CD tool and risk engine in one place within Jira Service Desk
new incident investigation dashboard which will pull in data from Opsgenie
ability to export reports to Confluence
Jira Software Roadmaps: offering a clear and concise way for anybody within an organisation to understand what's going on with a product or service. New features include:
hierarchies to show all issues across all levels
a new progress bar to show level of completion
dependency mapping
share roadmaps to Confluence with a new macro
Features coming soon include:
Roadmaps for classic projects (not just next-gen)
Advanced Roadmaps in Jira Software Premium - allowing for multiple teams to have visibility over multiple projects.
Three Jira roadmap offerings were also announced during Summit:
Jira Software: basic roadmap planning for free (single project)
Jira Software Premium: cross-team planning roadmap
Jira Align: standalone product for portfolio & program planning for enterprise customers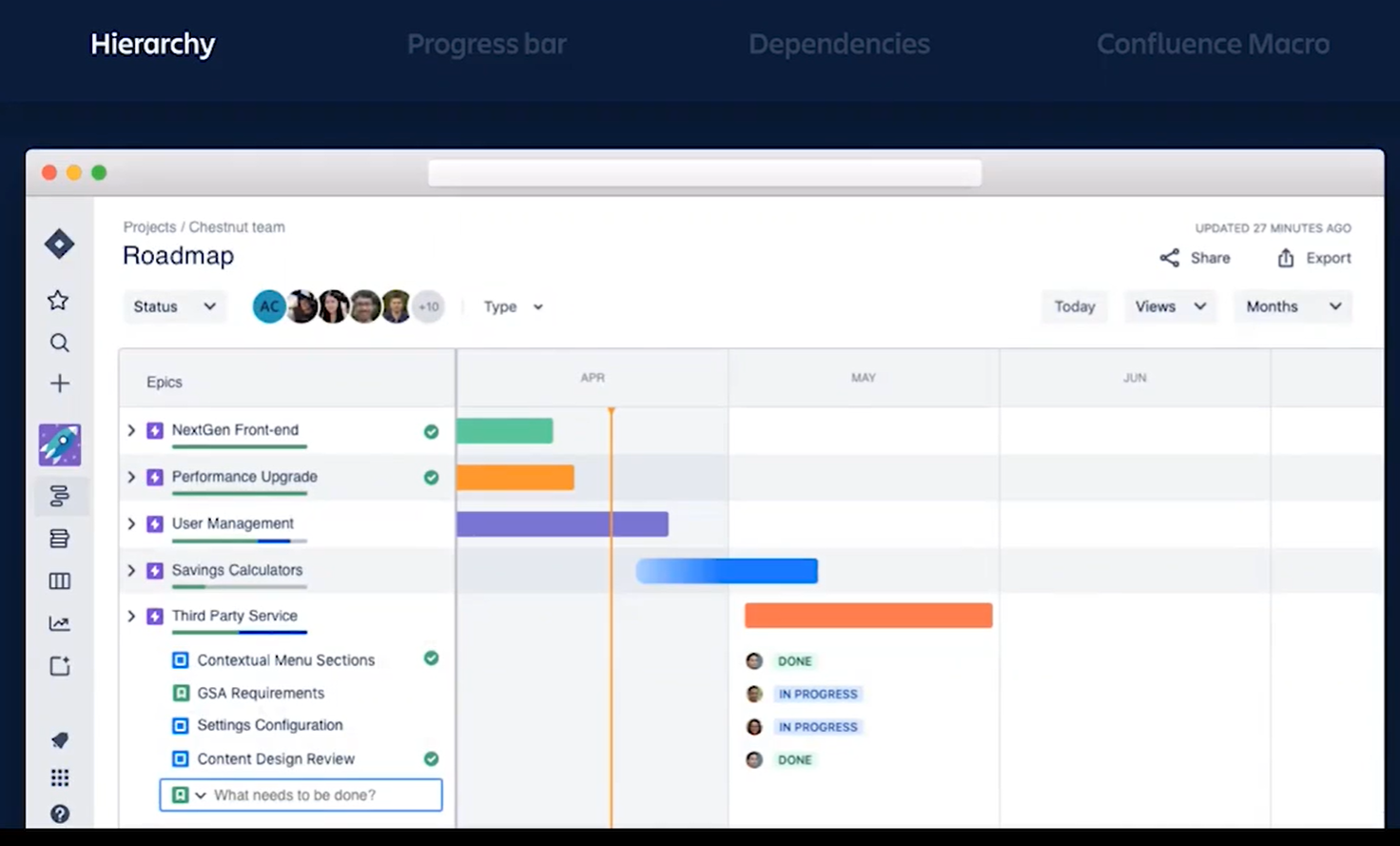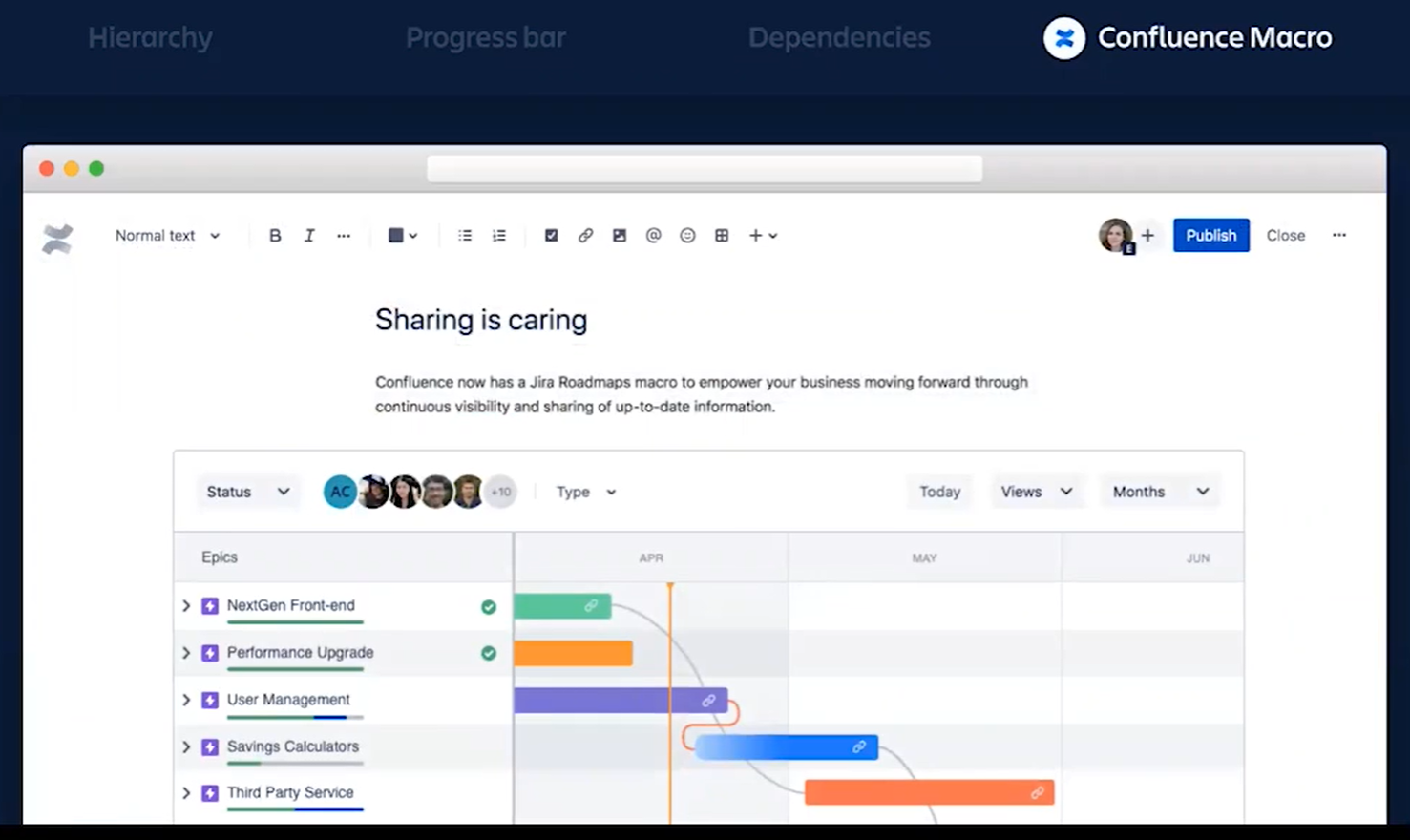 Session 2 - Unifying work across all teams with Atlassian
Available to watch on-demand here.
"How do you ensure harmony within your organisation? Successful teams combine the right tools, right practices, with the right people"
(Quote from Raj Sarkar, Head of Product Marketing, Trello and Confluence).
Atlassian acknowledges that team working can be hard. Implementing new collaborative tools and technology whilst embracing new ways of working with new sets of expectations can be difficult to manage at the best of times. By adopting an "open work" methodology within your teams, you can unlock productivity, agility and innovation within your workplace.
New features/announcements:
Templates: Atlassian acknowledges that every team does things differently and there are lots of moving pieces, but they've introduced templates in all their products to make it easier for any team to get started on Atlassian's products: copy, customize, and collaborate!
Trello: new templates gallery (from roadmaps to onboarding to campaigns)
Jira Service Desk: templates for business teams (e.g. employee onboarding)
Confluence: template gallery with over 75 templates (e.g. employee development, business strategy, DevOps runbooks etc) from various partners including SalesForce, Invision etc - coming soon!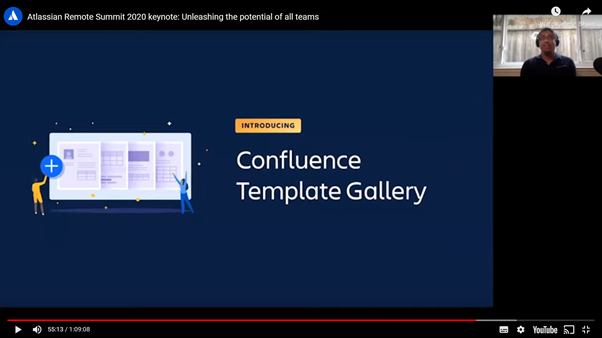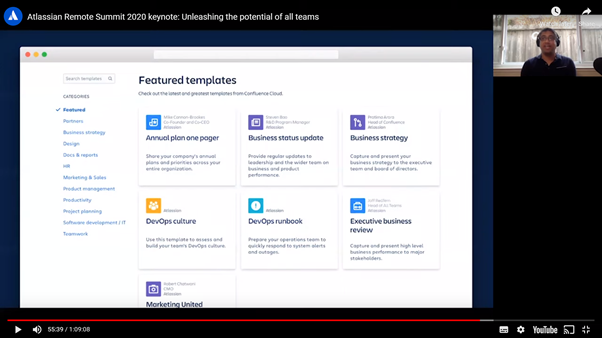 Butler automation can now be used to integrate with Jira and Slack e.g. users can automatically post a message to a Slack channel when a Trello card is updated
partnership with Unsplash for cover photos on cards
partnership with Gliffy for stickers on cards
'Automation for Jira' is now part of Jira as a native no-code solution for automating processes
new navigation experience (navigation bar at top of screen)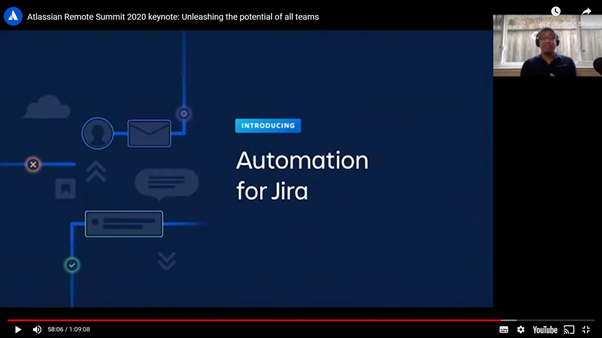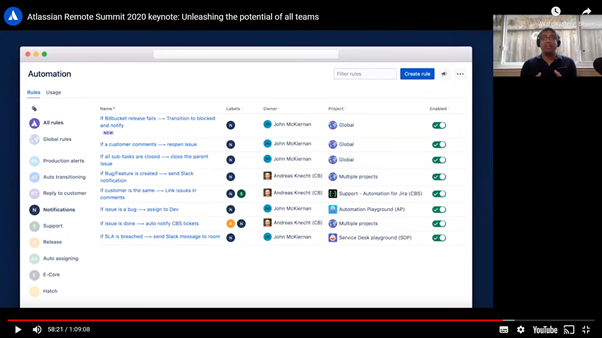 Confluence Cloud
new automation features coming soon to Confluence premium
new navigation experience (navigation bar at top of screen)
new Home page experience with favourite spaces, recent pages, news feeds etc.)
Analytics now available for Standard edition (e.g. page analytics, read-time on pages)
new features in Confluence Editor announced (e.g. expand macro for content, preview links for URLs, new macro browser with better discoverability)
better collaboration with new comment experience: users can use '/' command to add tables, images, emojis and yellow highlighting will also available in comments
inline comments available in edit mode
Day Two
Accelerating business transformation
Mike Cannon-Brookes opened the final day of Summit by forecasting the current climate will act as a beginning of a new era of business transformation, with businesses having to adopt and embrace a "new normal" to survive. Cloud was the main focus of Mike's keynote, which he coined "the great equalizer"and the foundation of which we can bridge the gap between our digital and physical worlds, regardless of use case. Atlassian continue to promise to deliver the best Atlassian experience on Cloud.
Available to watch on-demand here.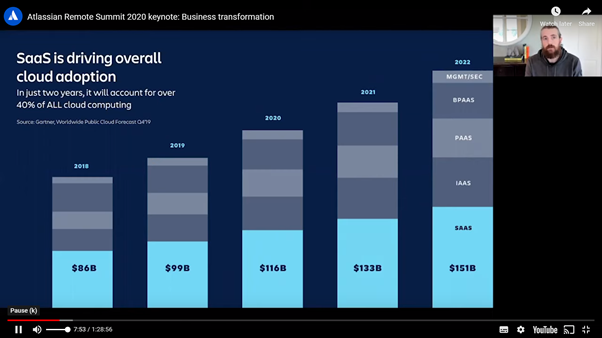 New in Cloud

Atlassian Cloud was launched a decade ago and the cloud journey to date has focused on three areas: smart products, scaleable platform and seamless extensibility. It was good to hear Atlassian promising to build more intelligence and offer deeper customisation within the Atlassian cloud platform. Here are the Cloud announcements we were most excited about:

Atlassian Cloud Enterprise: a new cloud plan aimed at enterprises (customers with over 1,000 users) for Jira Software, Confluence and Jira Service Desk, with an Early Access Programme starting in May 2020. This will offer customers unlimited flexibility, new and enhanced capabilities and seamless integrations. Exciting features will include unlimited users, centralised user billing, release tracks, sandbox, 99.95% uptime SLA, 24/7 customer support with 30 min response time and Atlassian Access included. Also new is data residency support for Cloud Enterprise, giving organisations the choice of where their data is hosted which is imperative in data regulated countries such as in the E.U.
New in Cloud Premium: New capabilities announced across Jira Software, Jira Service Desk and Confluence Cloud products. These include:
IP Allowisting - ability for users to define specific IP addresses allowed access to Jira and Confluence.
Admin Insights - allowing users to gain deeper visibility into how your business is using Atlassian products, from security to utilisation.
Cloud Sandbox - area to test features and clone production data, allowing for a realistic assessment of what changes will look like in production for your entire organisation.
New in Premium for Jira Software:
Automation - gives users the ability to automate tasks and processes throughout Jira, out-of-the-box. A no-code rule builder used to trigger Jira workflows across as many Jira projects as required.
Advanced Roadmaps - an advanced roadmapping feature that "rolls-up" work from multiple teams and products into a single place, offering a single source of truth at both a macro level and individual project level. Teams can track dependencies, blockers and manage capacity across teams and products in one place.
Project Archiving - allowing users to archive projects and issues that are no longer in active use. Reduce clutter in instances whilst still rendering archives searchable.
New in Confluence Cloud: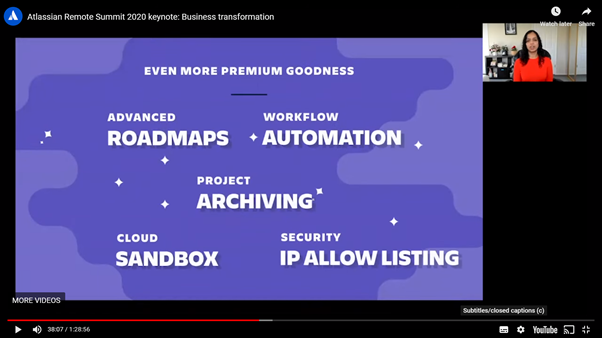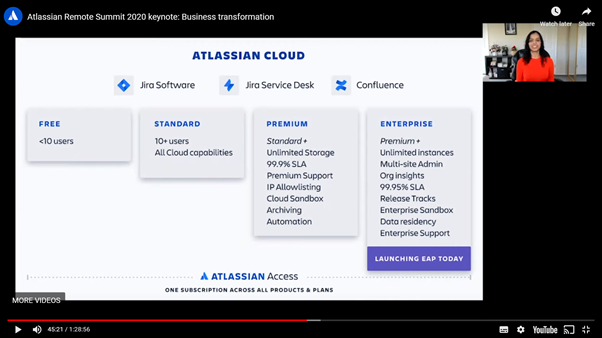 Cloud Migration Services: New support including Confluence Cloud Migration Assistant, Jira Cloud Migration Assistant, App migration tools and extended Cloud Trials.
To address the issue of trust within the Atlassian Marketplace, Atlassian has created the following mechanisms to garner user peace of mind:
Dedicated SecOps team: working across the app ecosystem to "up-level" security measures through the introduction of new programmes such as Bug Bounties and additional security tooling for marketplace partners
New Marketplace Partner Programme: requiring enhanced security certification as part of eligibility criteria for marketplace partners
Best-in-class security by default: Atlassian will host user apps on their infrastructure, inheriting the ability to scale
Atlassian also announced that building apps for cloud will be easier going forward thanks to a declarative UI, allowing for easier component extensibility.
A massive Summit announcement is the introduction of a brand new extensibility framework, Atlassian Forge, which will allow developers to run, host, secure and scale apps in the cloud. Coined as the new standard in app development in cloud, Atlassian Forge will provide a hosted infrastructure, allow for effortless customisation and a streamlined experience for developers.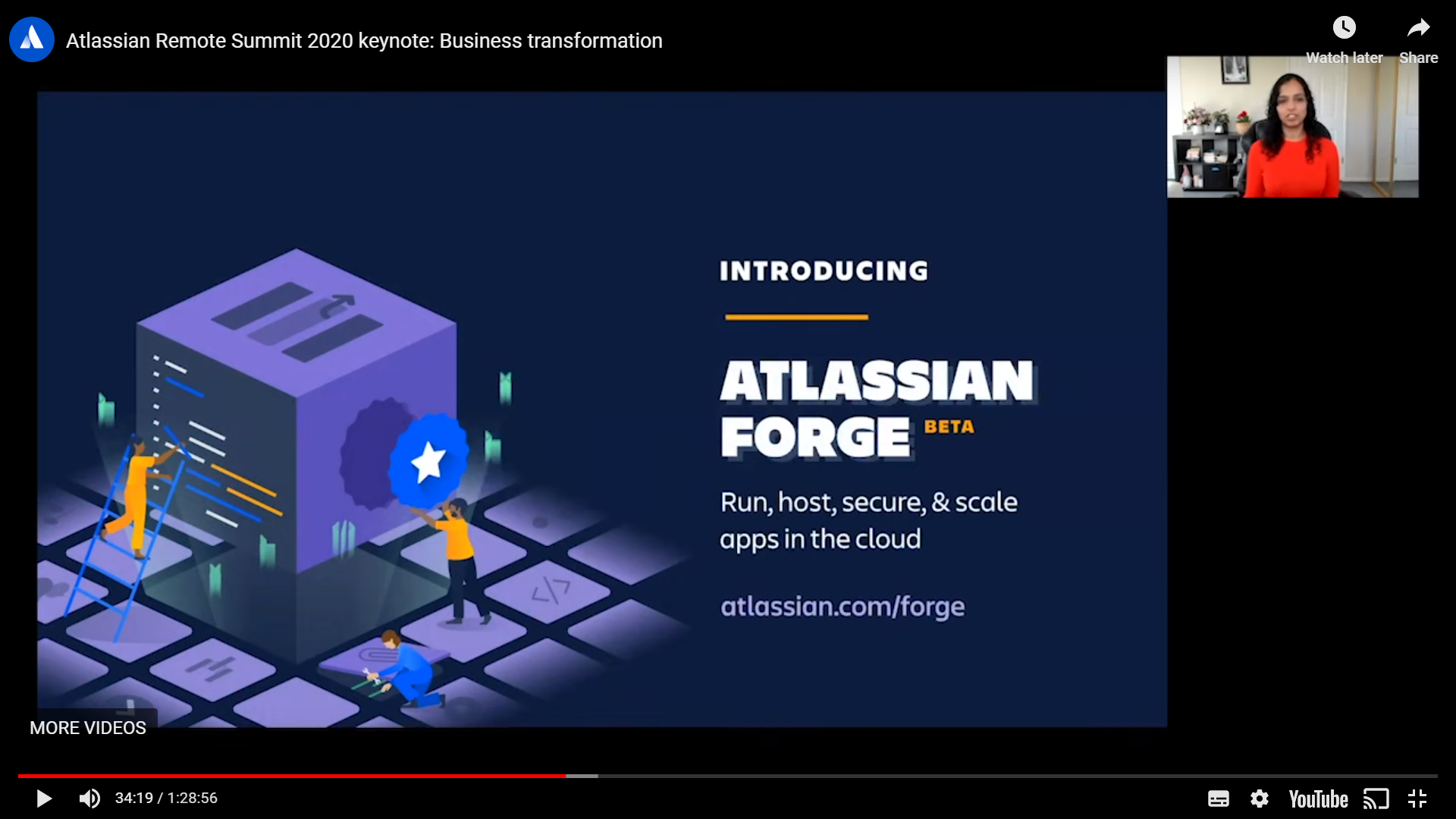 Agile at Scale

Atlassian Data Centre (DC) was launched in 2014 and made a number of big announcements at last years Summit. Going forward, Atlassian will continue to invest in performance, scale, stability and reliability across the platform. New areas discussed at Summit included security compliance, advanced user management and a self-managed enterprise DC edition. New features include:

Jira Software Server and Data Centre:
Improved sprint management - coming soon
Jira Software and Jira Align connector - coming soon
Portfolio for Jira Server and Data Centre:
Capacity management snapshot - will give insights into team velocity
Confluence macro for Portfolio
Jira Align and Trello connector: Trello users can seamlessly connect their work to the bigger picture in Jira Align, bringing all teams together regardless of where they work.
OKR's in Jira Align: Atlassian is planning to open for everyone, allowing teams to understand their top-level objective contribution and how it feeds into company success - coming soon
Bringing AI to Jira Align: making Jira Align more intelligent and changing the way data is presented - coming soon
Atlassian also announced the introduction of personal accessibility settings in Jira 8.8. on Server and DC platforms and investing in GDPR compliance across Server and DC products for EU customers.
Confluence Permission Features in Data Centre:
Auditing: users have the improved ability to audit space and page permissions
Troubleshoot: ability to troubleshoot user access levels
Bulk edit: ability to bulk edit permission settings for users and groups
Use of external process pools in Confluence DC to help prevent node crashes
User Management in Data Centre:
Atlassian focused on four areas of user management across Data Centre products at Summit:
Authorisation: OAuth2.0 integrations across data centre products will make integrations easier and less time intensive - coming soon
Authentication: building on top of SAML and adding support for Open ID Connect which is popular within enterprise organisations
Flexibility: building the ability to integrate with multiple IDP's allowing for more flexibility
User provisioning: streamlining user provisioning by enabling Just In Time (JIT) processes so that user accounts are created automatically when a new user authenticates for the first time using SSL
Mobile Device Management (MDM) was also announced, allowing admins to now distribute Jira and Confluence apps on organisational approved devices. Admins can pre-populate instance site URL's making setup and login easier for users on the go.
Finally, last but by no means least, Atlassian announced a new Data Centre deployment option:
Clustering will now be an optional feature of Data Centre, allowing customers who do not need high availability access to Data Centre features without having to use a clustered infrastructure. Customers can run Data Centre on a server architecture by dropping in a licence key and upgrading in 2 minutes or less!
ITSM & IT Ops
Atlassian announced improvements for their two primary products supporting service at scale:
High context incident management with Jira Service Desk and Opsgenie: allowing for more integrated functionality and insights - coming soon
Improved agent queues in Jira Service Desk Server and Data Centre: ability to bulk edit, better sorting capabilities, opportunity to make changes in-line and to star commonly used queues - coming soon
AWS catalogue connector for Jira Service Desk and Data Centre: users can self-serve and request admin-approved AWS catalogue products within JSD.
Multi-lingual customer portal: giving teams the ability to display language in the local setting of each user - coming soon!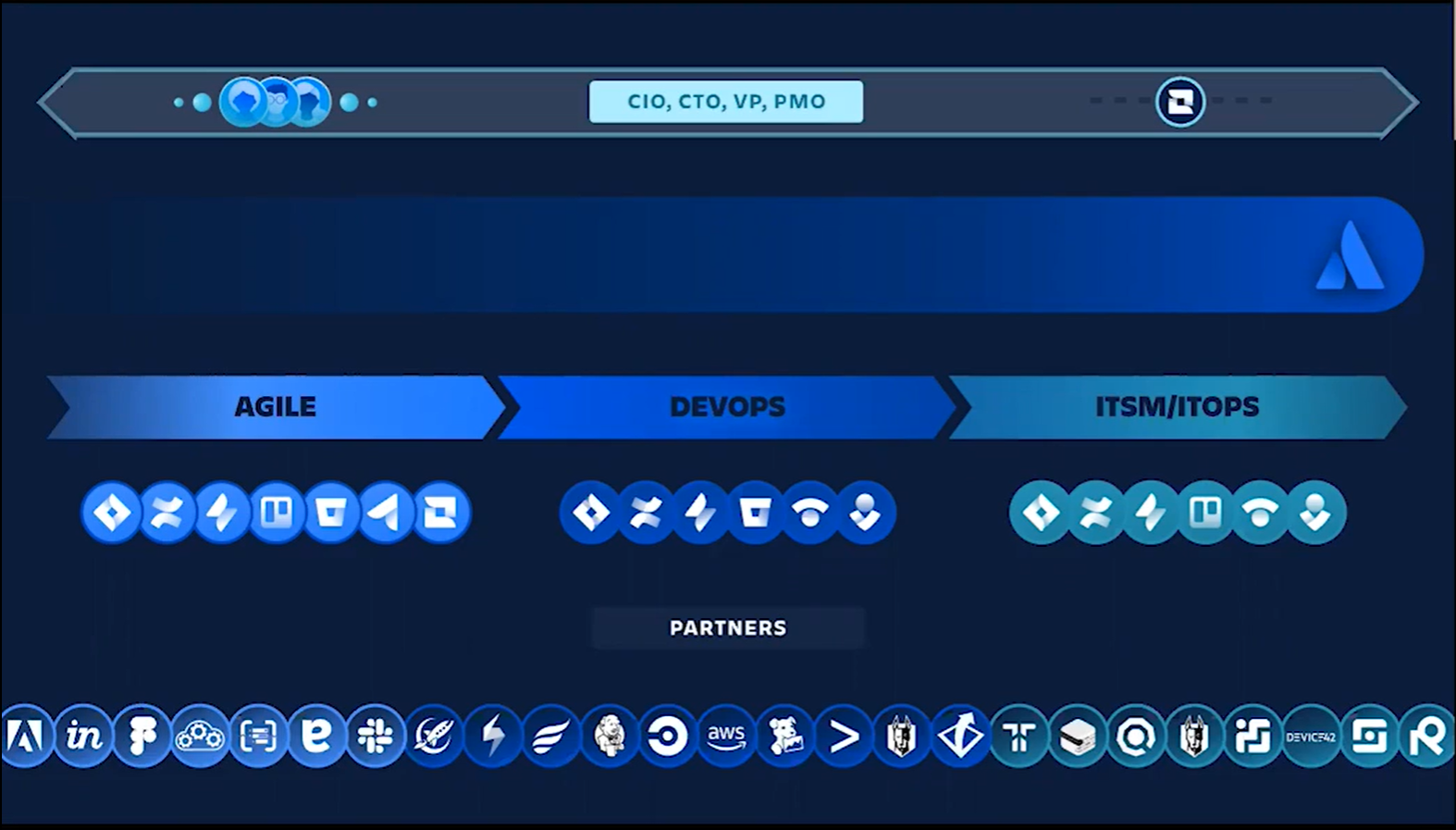 Developers
Improvements to Bitbucket Server and Data Centre and Bamboo:
Integrated CI/CD support for Bitbucket - coming soon
Improved branch configurations in Bamboo
New and improved pull request experience
Business Teams
For business teams we can recommend the following insightful Summit sessions:
Visit the Atlassian Remote Summit 2020 portal to access even more amazing content, case studies, breakout sessions and product demos and learn how Atlassian can unleash the potential of your team(s).
What did you enjoy most from Summit? What were your Summit highlights? Write your comments below, we would love to hear them!
---
---