Enhance your ITSM solution by integrating Jira Software and Jira Service Management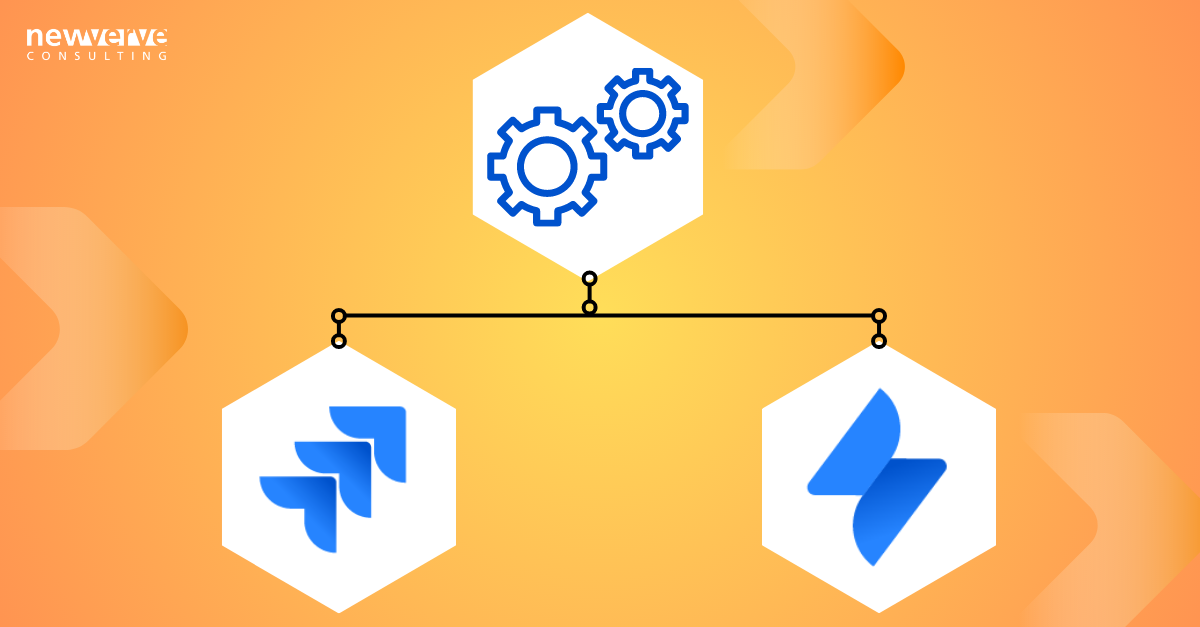 Atlassian tools are built to facilitate collaboration and productivity; most importantly, they're built to work together. Pairing together Jira Software and Jira Service Management has the potential to unite your teams and enhance your IT Service Management (ITSM) workflows.
In this blog, we're examining the benefits of integrating Jira Software and Jira Service Management, and also explaining how to get the most out of combining these two tools.
Overview of both tools
While there are similarities between Jira Software and Jira Service Management, they serve different purposes for your team.
Jira Software, also referred to simply as Jira, is the #1 software development tool used by agile teams. It is a task management tool that adopts agile practices through Scrum or Kanban boards. Jira keeps your teams organised and in sync with roadmaps and reporting and insights.
Jira Service Management, or JSM for short, is a service desk tool that has capabilities for ITSM practices like request, incident, problem, change, and configuration management. It operates using customer portals, agent queues, support rotas and service catalogues to provide a single view of the support workflow.
Why integrate Jira Software and Jira Service Management?
Optimise visibility into service requests
Using Jira and Jira Service Management together synergises your operations, IT and dev teams; it gives them visibility into service requests as the two tools can create a self-service customer portal. Jira Service Management offers an intuitive self-service portal for feature requests, bugs, incidents and other customer requests for dev teams. Whether these requests are logged through a service portal, email, embeddable widget, chat, or API, the work can then be streamlined into triaging tickets for the dev team on a Jira board.
In addition to this, your teams can easily share or link issues between Jira and Jira Service Management for quick and simple collaboration at scale. This can be enhanced even further by Jira's native automation tools that can be used to create, link, and comment on issues across Jira and Jira Service Management projects.
Quickly resolve incidents
The multi-channel support provided when using Jira and Jira Service Management means that you can offer support to customers, wherever they are - whether it's through email, widget or chat. The tools enable your teams to work together to resolve incidents faster and restore critical services with the one-click major incident escalations in Jira Service Management. On-call scheduling, alerts, incident conference calls, chat channels, and the incident investigation view are all available options teams can use for urgent issues to ensure the right people are given the right information to resolve the problems.
The integration of the tools can also help you deliver on SLAs by prioritising tasks and sending alerts before you breach. On top of this, you can use Jira's out-of-the-box automation rules or build your own for those repetitive tasks, freeing up your agents to focus on the more important stuff!
Accelerate development work
The change management features that Jira Service Management boasts can remove blockers for development teams and enhances workflows by automating changes. Once again, automation can lighten teams' workloads with automated change risk assessments, and advanced approval workflows.
Additionally, Jira Service Management offers integration features like deployment tracking and gating using CI/CD tools like Bitbucket Pipelines, Jenkins, CircleCI, and Octopus Deploy.
Improve over time
Using Jira Service Management's dedicated support metrics, you can track your team's performance over time. Capture the metrics that matter to you such as mean time to resolution (MTTR), team productivity, customer satisfaction score (CSAT) and more so you can analyse performance and make improvements where needed.
Get started with Jira Software and Jira Service Management today
Using both Jira Software and Jira Service Management together can unite your IT, operations and dev teams to enhance your ITSM and issue resolution. Integrating the two tools improves your teams' visibility over work and assists collaboration and automation so that tickets are quickly resolved.
If you want to explore integrating Jira Software and Jira Service Management then contact our team who can help create a solution that suits your needs. As an Atlassian Solution Partner, New Verve can help your team get the most out of Atlassian tools.
---
---