Atlassian Cloud vs Data Center: which platform is right for your team?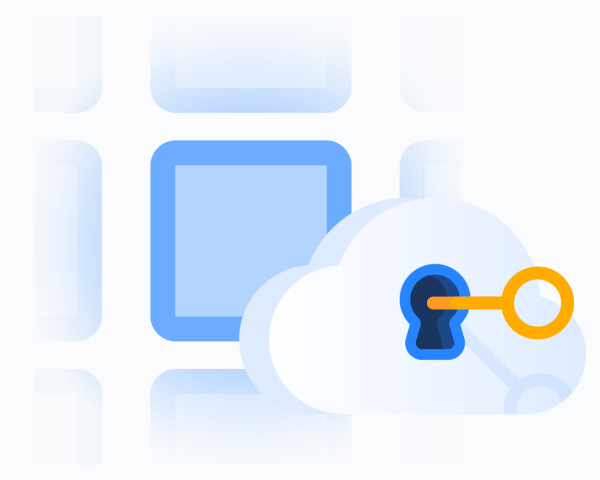 Wondering about the difference between Atlassian Cloud vs Data Center? Well, wonder no more! We're here to investigate the two platforms, comparing their features and exploring the pros and cons of each.
Atlassian Cloud
Cloud computing provides a secure, online site to access information without using a private network or VPN. Atlassian Cloud is the future and Atlassian has prioritised their Cloud-first approach following their announcement of the end of Server come 2nd February 2024.
Atlassian Cloud offers products that are always-on, continuously updated and highly secure; they do the heavy lifting, enabling you to focus on mission-critical work instead. When combined with Cloud's easy scalability, these features mean that you're futureproofing your business by switching to Cloud.
Data Center
An on-premise Data Center runs on servers on the premises of the person or organisation using the software. It is a self-managed option that provides high levels of availability and performance. This equips teams with everything they need to run their Atlassian applications, including reliability, durability, and data security, while on a trusted managed service.
This option is perfect for those in a heavily regulated environment, who need total data isolation or need more time to plan their move to Atlassian Cloud.
We've compiled some information comparing Cloud vs Data Center to help your team decide which platform is right for them.
Feature Comparison
Security
Security is often stated as a top concern when migrating to Cloud but Atlassian Cloud has access to best-of-breed security updates at all times. In fact, Salesforce stated that 94% of businesses surveyed said security improved after moving to the cloud. Their zero-trust approach means that security checkpoints are incorporated for every Atlassian user and every Atlassian tool.
Atlassian has ensured Cloud apps are secure by introducing a number of measures. These include enforced minimum security requirements, a best-in-class Bug Bounty program, a collaborative security self-assessment program, clear privacy policies, GDPR-compliant practices, and constant improvements. They also always strip personal information from the API, which means user data never passes to app vendors (keeping it both safe and GDPR compliant).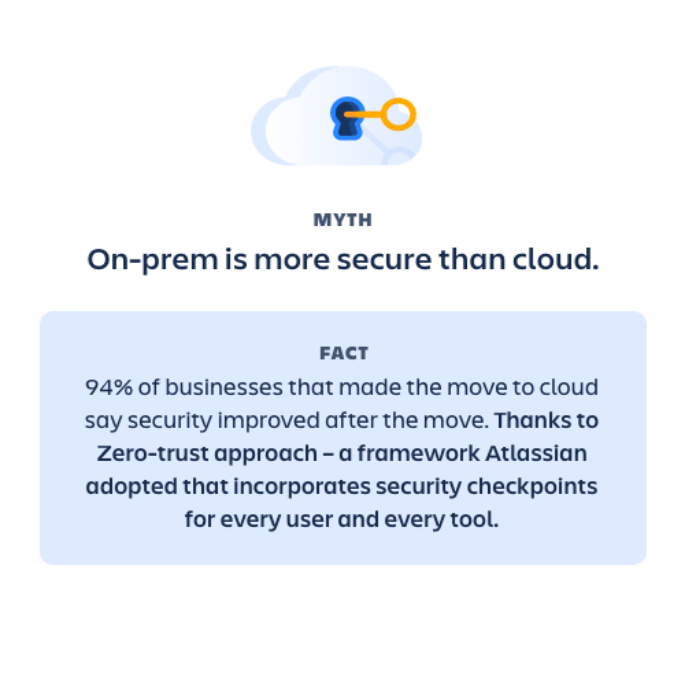 If you are seeking complete data isolation - in other words, you'd like all application data to reside in a single geographic location - then on-premise Data Center is a good choice. The platform provides reliable security and compliance in a self-managed environment.
Due to this, Data Center is a good option if your business requirements prevent your organisation from moving to the Cloud, such as security compliance or if your product data is mandated to remain in a self-managed environment.
Collaboration
The working landscape has changed dramatically over the past few years and now with teams working remotely and often more spread out, software mobility is key. Atlassian Cloud provides complete mobility for your team as it can be accessed from any browser or mobile app across the world without using a private network.
Unlike on-prem, Cloud facilitates easy collaboration with its real-time editing, saving and file sharing so your team stay in sync without any extra effort.
Things are not quite as simple with on-prem. Data Center requires internal resources and expertise to manage. While collaboration is facilitated, it's not quite as easy as it is on Cloud.
Scale
Looking to the future is a key part of any company's strategy so it's important that your software works with you to get you there. Atlassian Cloud is renowned for its flexibility and the way it can adapt to changes as they happen, meaning it can be scaled up or down as required.
This is due to Atlassian handling storage space and inventory, allowing seamless transitions and additional resources whenever they are required.
Similar to Cloud, Data Center offers high performance at scale, however, you're responsible for implementing and maintaining scalability, high availability, and disaster recovery strategies.
Data Center does have functionality built directly into the platform to help your team do this. This helps address your core availability, performance and scalability and they all fall under one hood, so you can enjoy the benefits without too much configuration.
Maintenance
Atlassian Cloud reduces expensive IT workforce requirements by providing automatic upgrades while also ensuring there are no delays and adding peace of mind through uptime guarantees.
Cloud continuously syncs developers' work throughout the day and quickly and regularly delivers small software changes which lead to faster development and deployment and ensures your instance is always the latest version. Cloud's automatic scaling and standardisation of work also provide a chance to streamline internal processes and improve your team's speed and productivity.
An on-prem instance, however, requires ongoing maintenance and lacks the infrastructure automation of Atlassian's Cloud offering. Atlassian is investigating opportunity areas including increased automation, easier administration and improved scalability and resilience as they recognise that Data Center is an integral part of a team's business plans.
Price
Cloud costs can vary depending on your specific needs and can be dictated by a number of factors including the number of active user accounts, data requirements and Marketplace apps. Atlassian offers multiple, flexible plans (Free, Standard, Premium, and Enterprise) so your team can choose the level best suited to their needs. The upfront cost of Cloud can seem expensive but can save your team money in the long run.
The lower maintenance and operational costs offered by the cloud platform can have a serious impact on your team's budget. If you run Atlassian on-prem, the costs associated with hardware and hosting (as well as any unscheduled downtime) could also be eating into your IT budget, which Cloud allows you to put to better use elsewhere.
In contrast, Data Center pricing is a single, tiered plan on an annual subscription with varying support levels depending on your package. Factors such as the number of cluster nodes (e.g. 2, 4) in a Data Center deployment can affect the cost but, again, pricing may vary depending on your specific needs.

Overall product comparison
The choice between Cloud vs Data Center can often be dictated by company requirements and limitations and while on-premise can be a good option in the meantime, Cloud is certainly the future. Companies looking to plan ahead and future-proof their efforts should start planning their migration to Cloud and what that may look like.
Server is no longer a long-term choice for the future and given the cost and efficiency benefits of Cloud, it's now a requirement for ensuring future success. Take a look at both our Cloud and Data Center offering to see which path to Cloud is right for your company and how New Verve can help you on the journey to get there.
Related Reading
If you enjoyed this blog and have been inspired to start your journey to Cloud then check out our blog Moving to Cloud: Considering Your Cloud Migration Strategy.
---
---