Insights from ITSM17
The annual conference arranged by itSMF UK was a great success and we thoroughly enjoyed being a part of it. This year, ITSM17 took place in Manchester on 20-21 November and provided over 50 educational presentations across four streams:
DevOps - how DevOps works within ITSM and alongside existing ITIL processes.
ESM - how (IT)SM can be used and developed beyond IT; the interfaces and approaches available, service management in action across the enterprise.
Customer experience and BRM — helping the business to transform the experience of its customers, employees and partners in every area of operation.

Cloud — the reality of managing services in the cloud environment, including IoT, Big Data, Cybersecurity.

Apart from manning our awesome stand, we got to attend some interesting talks. We've shared some quick insights from two of our favourites.

A selfless approach to self-service and service management
This seminar was delivered by Sanjeev NC from Freshworks, and raised a few interesting points.
Based on survey results from SDI ('A view from the Front Line - 2017'), it's clear that usability is a key frustration when it comes to ITSM tools. Judging by the stats shared by Sanjeev, many service desks also struggle with end-user self-service adoption.
We don't know how extensive the survey was and what kind of tool coverage there was across respondents. What I can say is that based on our own experiences, most ITSM tools are slow to respond to what the market really wants: usability and self-service.
Ultimately, as Sanjeev pointed out, every customer support interaction should deliver the best possible experience. Not only that, but self-service should be selfless too.
Self-service still requires people to go to a place.
That place could be a link, an app, or anything anywhere.

Selfless service puts the end user above the service desk's needs.
It tries really hard to get the service desk to where the users are and not make them have to come to it.

(def.) selfless - concerned more with the needs and wishes of others than with one's own.
So, how can a service desk become selfless?
ensure navigation isn't a maze!
have an unambiguous knowledge base;
ensure your communication is seamless, simple, and helpful;
provide the right context to agents by presenting everything on the one screen (e.g. requester details, asset information, CRM, similar tickets etc.);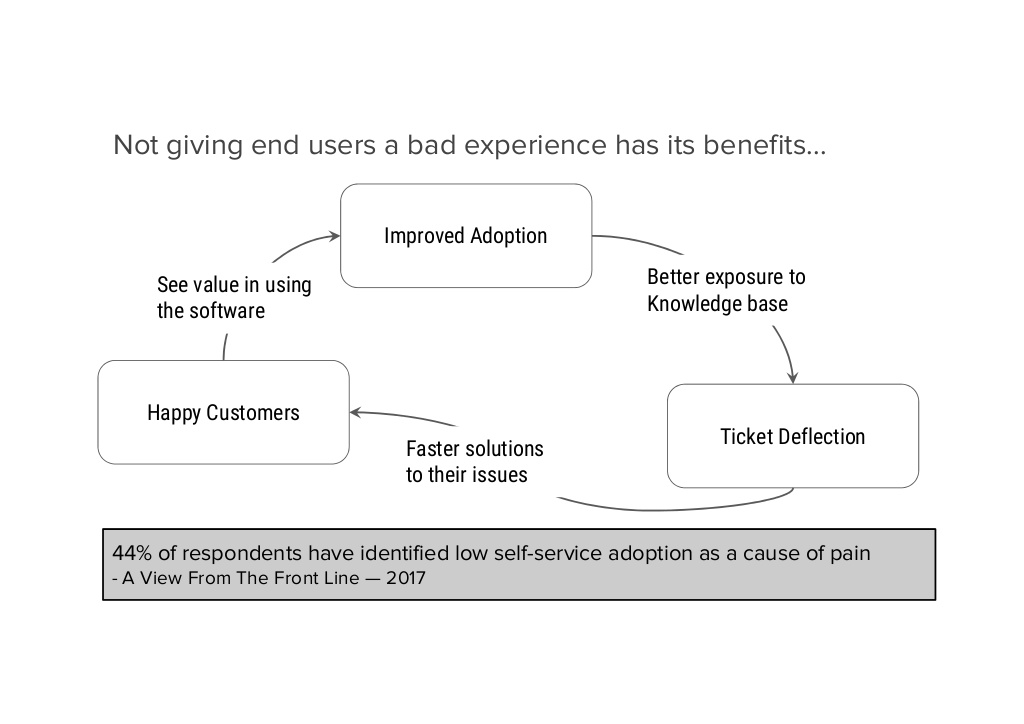 All of these points depend on three things: people, process, and tools. ITSM definitely isn't just about the tool, however, with the right tool, you can streamline and refine process, as well as bring people together in a collaborative way.
It's no wonder that Jira Service Desk is Atlassian's fastest growing product. Not only simple to use, it's easy and quick to get up and running, and it's definitely geared up to becoming a selfless, self-service tool.
Get in touch with us today and find out how.
Rise of the Machines
Daniel from New Verve attended this seminar, delivered by Ian Atchison, Senior Director ITSM at Ivanti.
Ian predicted that Artificial Intelligence is about to impact ITSM very significantly. Self-service is the obvious area where Bots and Conversational UI can bring immediate positive benefits.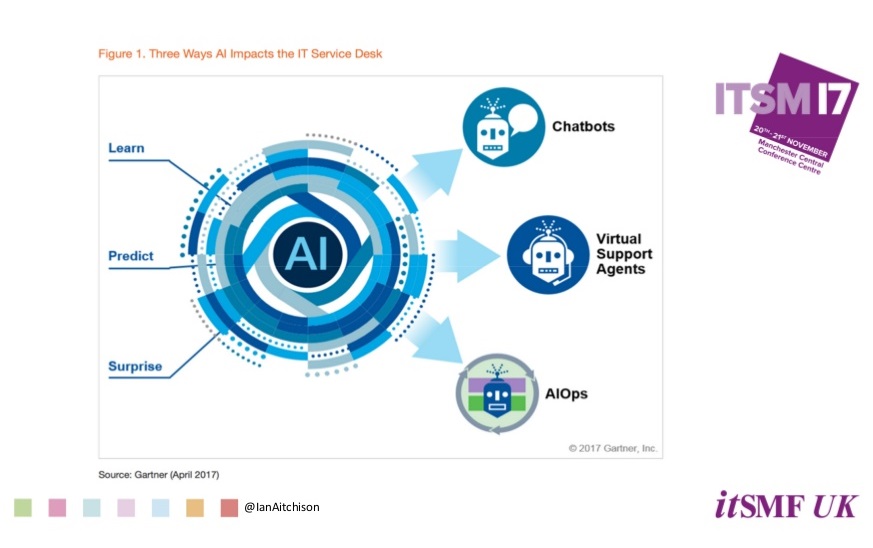 There are significant pros to using Chatbots for IT service delivery. Chatbots not only introduce efficiency gains and ease of interaction, but can also bring cost savings for 24 x 7 IT support teams that never sleep.
As natural language processing and machine learning continue to improve, there is an opportunity for Chatbots to become the first line of support in B2B and B2C customer relationships.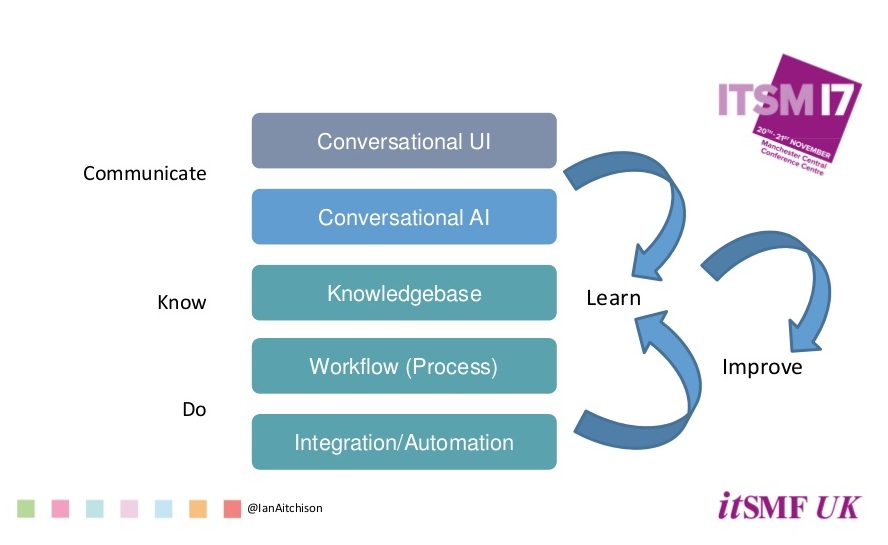 In a nutshell, and summed up quite nicely by Ian, Chatbots are a no-brainer for ITSM. They can:
save time and money;
improve productivity and satisfaction;
transform self-service;
position IT as an innovator.
Jira Service Desk already ships with a built-in automation engine and when you integrate a knowledge base using Confluence, it uses machine learning ('Smart Graph') to associate popular keywords from past requests. This means that as customers create more requests, the search algorithm gets smarter!
Jira Service Desk doesn't natively support Chatbots just yet. However, it's only a matter of time before some viable add-ons appear in the Marketplace. Here are a couple of links worth exploring further:
---
---