Crumbs is Now Live!

Have you struggled to find an easy, cost-effective and centralised app to manage your customer information with Jira? We've got good news - our newly released app Crumbs is the simple customer data management tool that you've been waiting for!
Available now for trial and purchase on the Atlassian Marketplace, Crumbs seamlessly integrates with Jira and Jira Service Management and enhances user experience by:
creating a central customer data repository
providing easy information capture and editing
giving in-context customer information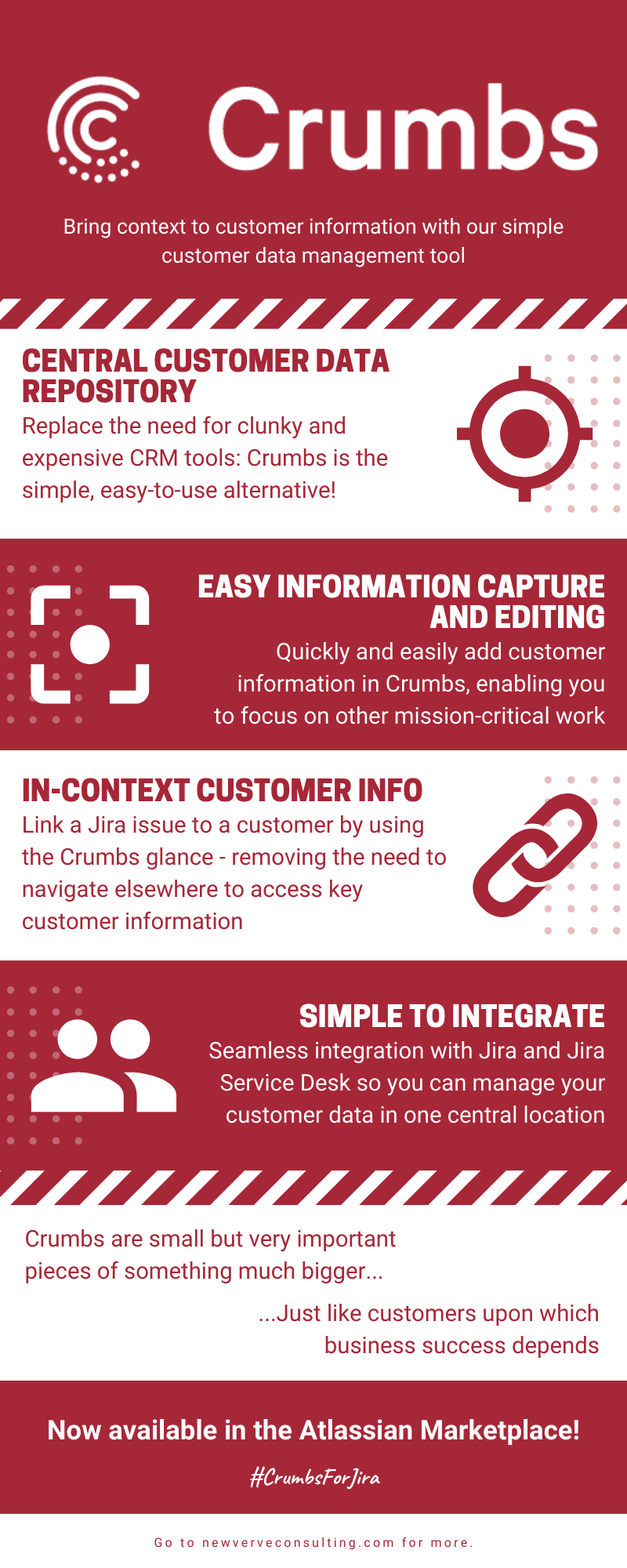 How does Crumbs work?
Crumbs is an easy-to-use app for Jira Cloud that allows you to capture, manage and edit customer information in a central location. Using Crumbs you can link one or more customers to Jira issues and once linked, the customer information is displayed directly within the issue itself, meaning you no longer need to search for it elsewhere.
Central repository within Jira which stores high-level customer information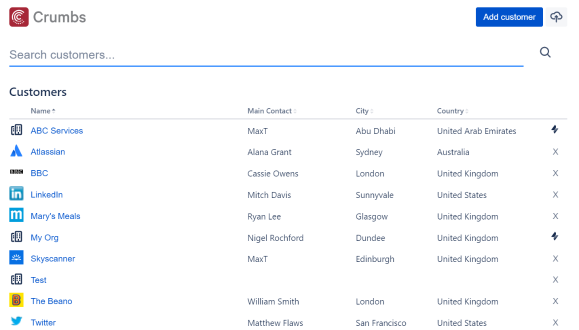 The 'Customers' panel within the app lists customer information, resulting in easy search data retrieval, replacing the need for clunky and expensive CRM tools. Instead Crumbs offers a simple alternative which provides high-level customer data in context.
Easy information capture and editing
It is possible to quickly and easily add customer information in Jira and Jira Service Management with Crumbs, as well as view, edit, import, link and even remove the data.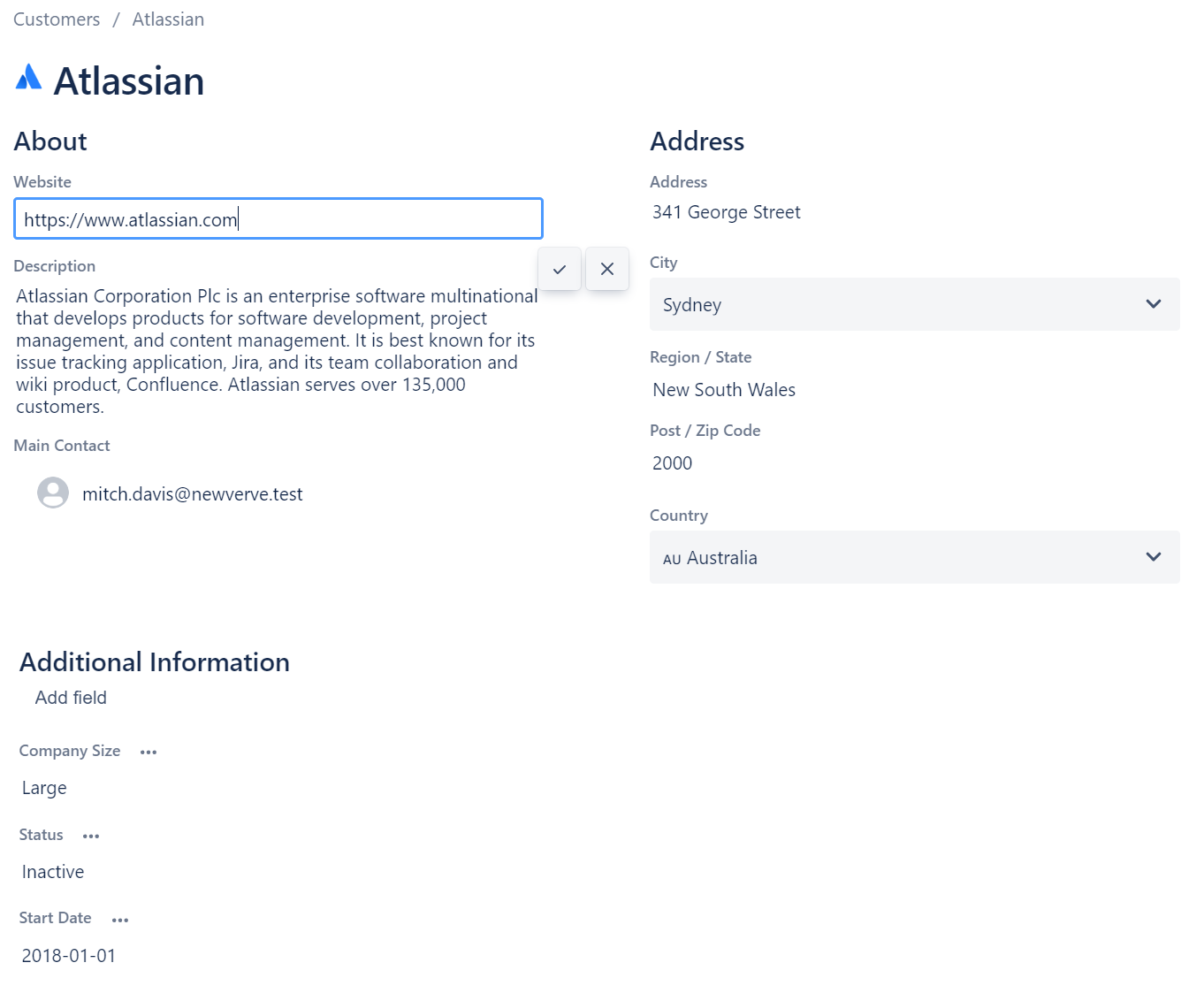 As well as capturing contact details, you can use custom fields to store other data. For instance, your IT team may want to see at a glance whether your customer has a valid support contract. Furthermore, data import functionality is built-in so it is possible to import information from an external CRM source. The ease of this process in Crumbs enables you to focus on other mission-critical work knowing that your customer data management is covered.
In-context customer info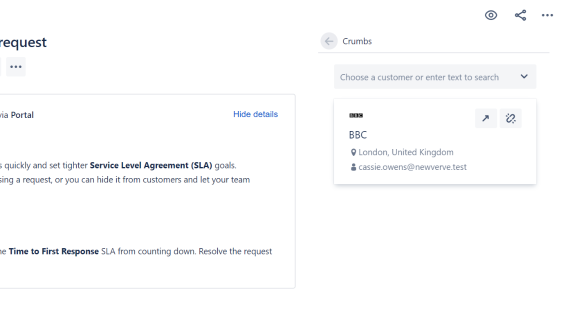 The customer information you need will be available within your Jira issue. You can link a Jira issue to a customer by using the Crumbs glance - this removes the need for Jira and Jira Service Management users to navigate elsewhere to access key customer data.
Seamless integration with Jira and Jira Service Management
It is simple to integrate Crumbs into Jira and Jira Service Management so you can manage your customer data in one central location. Once Crumbs is integrated it is easy-to-use and visually appealing, ultimately enhancing your team's Jira customer support experience.
Why choose Crumbs?
Enhances your customer data management
Crumbs positively impacts your customer data management and replaces the need for complex external CRM tools by allowing you to quickly and easily access and edit high-level customer contact information and linked issues directly within Jira Service Management and Jira. This makes it the perfect tool for Jira Service Management agents to use day-to-day and can be an integral part of your ITSM solution.
Boosts productivity and operational efficiency across teams
Crumbs can boost user productivity and performance, as well as enhancing customer support efficiency. The app cuts down the time it takes you to find customer information so you can use that time instead for more mission-focused work.
Use the centralised customer information repository feature to share information across multiple teams and divisions, thus improving and facilitating organisational-wide customer data consistency and efficient information sharing. Ultimately, Crumbs works to save time and maximise efficiency in your team by streamlining your experience and positively impacting customer support.
Crumbs are small but very important pieces of something much bigger, just like customers upon which business success depends.
Where can you get Crumbs?
Crumbs is now available on Atlassian Marketplace and you can try it for free! It is available for Jira Cloud and pricing starts at only $5 per month for 10 users.
For more information on Crumbs, you can browse our user guide here.
---
---