atSistemas acquires New Verve Consulting
We would like to announce that atSistemas, a Spanish digital services consultancy, has acquired New Verve Consulting.
The purchase of our company represents the latest step in the international expansion process of the Spanish technology company, which in the last few years has opened offices in the United States, United Kingdom, Italy, and Portugal, as well as a development centre in Uruguay. With this acquisition, the company seeks to continue growing, having closed 2021 with a turnover of 97.3 million euros - 23% more than the previous year.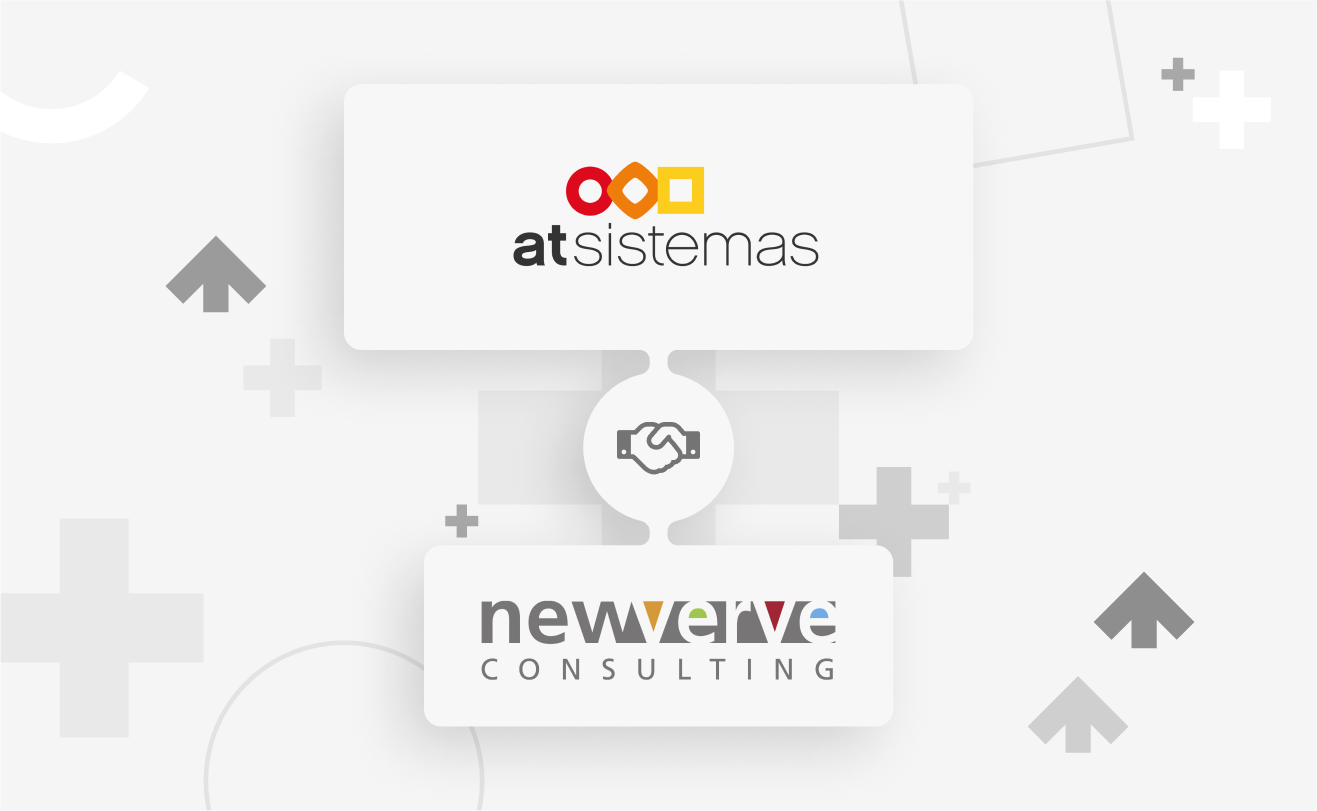 Having been in the market since 1994, atSistemas offers innovative solutions and accompanies more than 500 clients in their Digital Transformation. From its offices in Madrid, Barcelona, Cádiz, A Coruña, Santiago de Compostela, Seville, Mallorca, Zaragoza, Huelva, Valencia, Milan, Lisbon, Montevideo, Miami and London, it carries out architecture, development, systems integration and managed services projects, adopting and promoting the best practices in the market. It also works on international projects in Germany, Belgium, United Arab Emirates, the United States, Holland, Ireland, Israel, Italy, Portugal, the United Kingdom, Romania and Sweden. atSistemas is an "Agile First" company, acting with the flexibility of a start-up through the ecosystem of its 21 Expert Centres, a perfect collaborative environment for innovation and technological excellence
"With the acquisition of New Verve Consulting, we have significantly strengthened our commitment to becoming a global partner of the Atlassian ecosystem and positioned our company in the UK market, both of which are main priorities in our global strategy. This is also the first step in the inorganic growth initiative defined in our current 2021-2024 strategic plan.
"We are confident that the numerous synergies between New Verve Consulting and atSistemas will allow us to offer the maximum value to our customers and the greatest possibilities of joint growth for our professionals" says José Manuel Rufino Fernández, Co-owner and CEO of atSistemas.
Our team at New Verve Consulting specialises in Atlassian software and is the only channel partner in Scotland. Alongside this specialisation, we have been expanding our solution portfolio by developing proprietary products such as Crumbs, a customer management solution for Jira.
With this purchase, atSistemas increases its international presence by offering local expertise and support. This also follows its entry into the UK earlier this year with the opening of offices in the London capital.
"I would like to welcome all the great professionals that make up New Verve Consulting. With you, we will achieve a new boost of our "at family" and the positioning we have been pursuing for some time in the UK. In addition, with our union, we will reach a greater number of clients in both geographies, increasing our capabilities to lead large projects and offering better opportunities to our employees. With the acquisition of New Verve, atSistemas takes an important step in the relationship with our customers in the UK, incorporating local services from the Atlassian ecosystem" says Miguel Ángel Sacristán Salvador, Co-Owner & CSO of atSistemas.
The acquisition's objective is to accelerate the growth of atSistemas in the UK, the European market with the highest volume of business in the IT sector, followed by Germany and France, in parallel with the company's organic expansion plan, taking advantage of the opportunities and emerging trends in the sector. atSistemas will incorporate New Verve's service portfolio into its existing one, thus expanding its offer and covering the demand for the needs of UK-based companies.
Nigel Rochford, Founder of New Verve Consulting states "It's fantastic to see New Verve Consulting become part of the atSistemas group.
"Since starting the company in 2011, New Verve Consulting has evolved a huge deal and I'm immensely proud to see all of our hard work realised with this acquisition. On a personal note, I've loved every moment of the journey so far and am incredibly lucky to have worked with and learned from so many talented people over the years.
"As an entrepreneur, I'm delighted to reach this milestone with a company as successful as atSistemas acquiring the organisation that our team has worked so hard to build. The team at New Verve Consulting is its greatest asset and I can't wait to see them prosper as part of this group."
This is a significant and exciting milestone in our journey as a business and we're excited to see where the future takes us with atSistemas.
---
---