Today, we're highlighting one of our customer success stories, Mary's Meals, and how they used Jira Service Management along with Insight to deliver greater value today with the help of New Verve Consulting. We also chose Mary's Meals as our Pledge 1% charity of choice last year, too!
Read on to hear from IT Infrastructure Lead Stephen Neil on how he approached the transformation and the myriad of benefits through JSM and Confluence, and don't miss New Verve's founder and CEO, Nigel Rochford, discussing advocacy in long-term partnership as well.
Meet Stephen Neil, IT Infrastructure Lead at Mary's Meals
Hi, Stephen! Can you tell us a bit about your role, how long you've been at Mary's Meals, and a fun fact about yourself?
I've been at Mary's Meals International for almost 4 years and lead the IT Infrastructure team who manage our networks, telephones, computers & mobile devices, user accounts and cloud infrastructure services.
Fun fact? I previously held the Guinness World Record for most pancakes made in 1 hour.
Tell us a bit about your path to your role today. What do you love about your job, and what makes a successful team?
I've worked in IT for 19 years, going from desktop support to sysadmin to networking before starting to lead engineering teams. I now get to put all my tech skills and experience to use in support of a truly world-changing mission and I cherish the opportunities I get to promote our work amongst technical suppliers and audiences who can help us in it.
Howard Schulz once said: "When you're surrounded by people who share a passionate commitment around a common purpose, anything is possible". For me, successful teams must have that: passion, commitment and a common purpose.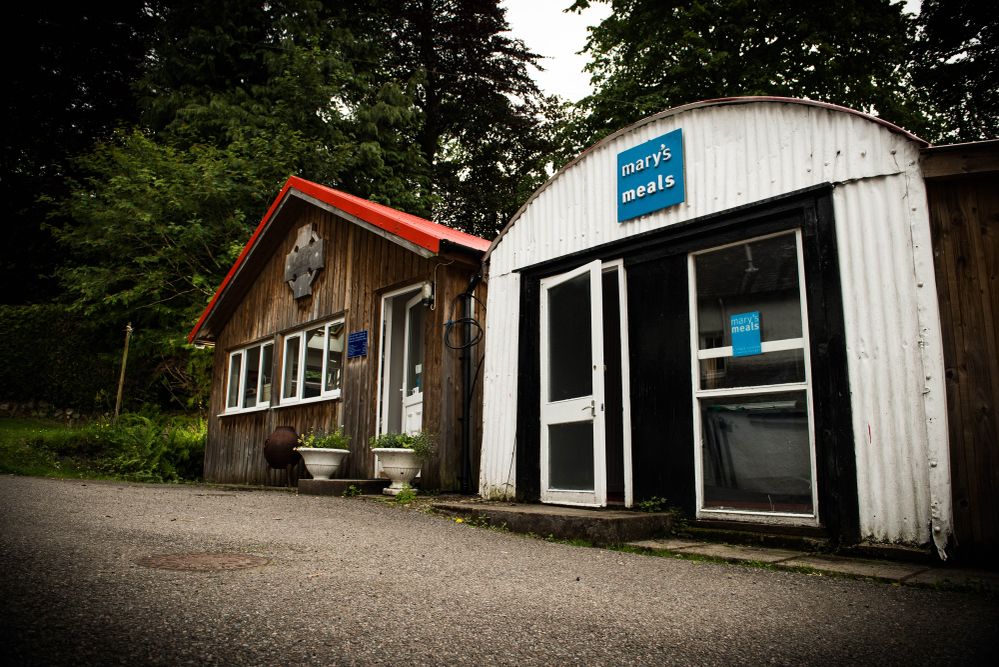 What were some signs that helped you realize that you needed to search for new products to help you scale at Mary's Meals?
Mary's Meals has grown from feeding 200 children in Malawi in 2002 to feeding over 2M today across 18 countries. When I started we were feeding over 1M and managing all IT support operations from a shared mailbox; logging work, getting email approvals, scheduling resources, reporting progress and gathering feedback was all difficult. To scale to feed 2M+, I knew we would need better collaboration and work management tools.
What features in Jira Service Management proved it was the best fit for your needs?
We knew we needed Incident and Request Management features immediately and wanted to develop our Configuration, Change, Asset and Knowledge management capabilities. Jira Service Management has all of these, enables process automation, is highly customisable and has an extensive range of 3rd party integrations. Atlassian also has an incredible Community License scheme for non-profits and a well established network of Partners for implementation and support.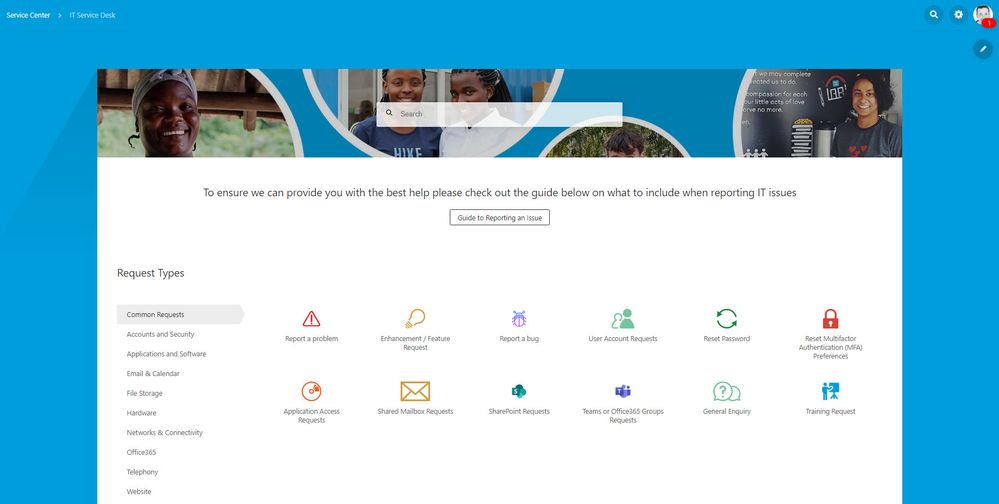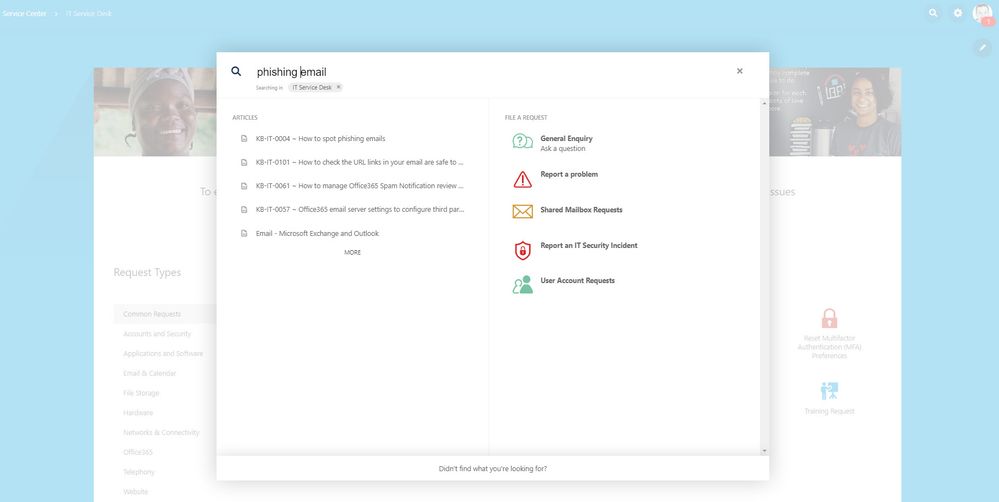 What difference did the addition of Insight make for asset management?
Insight replaced a disparate collection of asset management tools from across the different countries in which we operate with a single, universally accessible record of our IT assets. We can now easily transfer assets between our programmes, run global reports, associate assets with support tickets and more all from a familiar interface that integrates well with other tools like Confluence for creating pages with up to date asset information.
What value did adding Confluence bring when used with JSM, and which Confluence features do you enjoy the most?
We use Confluence as our Knowledge Management solution and JSM surface articles from our IT Knowledge Base in the customer portal. We also record team and project notes in Confluence, making use of meeting templates with add-ons which pull in JSM data and reduce the amount of preparation time involved for meetings.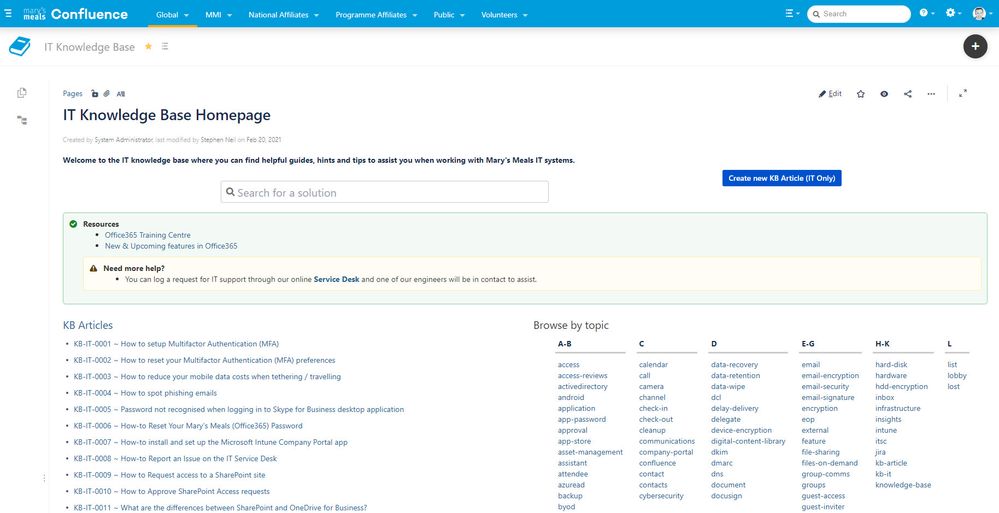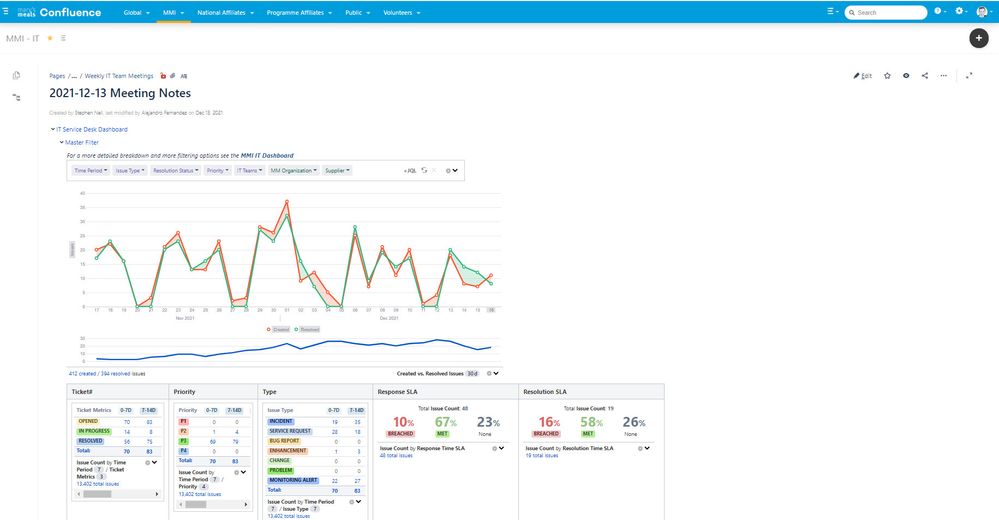 What made you reach out to New Verve to help, and how did New Verve help make this implementation successful?
We met New Verve through their "Atlassian in Scotland" events and started speaking with them about our IT service management challenges. The New Verve team have been great partners who took an immediate interest in our organisation, our requirements and learning how we worked. They helped us understand the capabilities of JSM, how it could be tailored to our needs and then aligned technical and project resources to us to ensure we had a successful implementation.
Can you describe how Mary's Meals is more agile today than it was before?
We are now using Jira with both internal and external development teams, making it easier to manage requests from our users and report on the associated work regardless of who fulfils it. Complex deployments like our global CRM rollout and new digital platforms would not have been possible without the process automation and iterative development that Jira enables.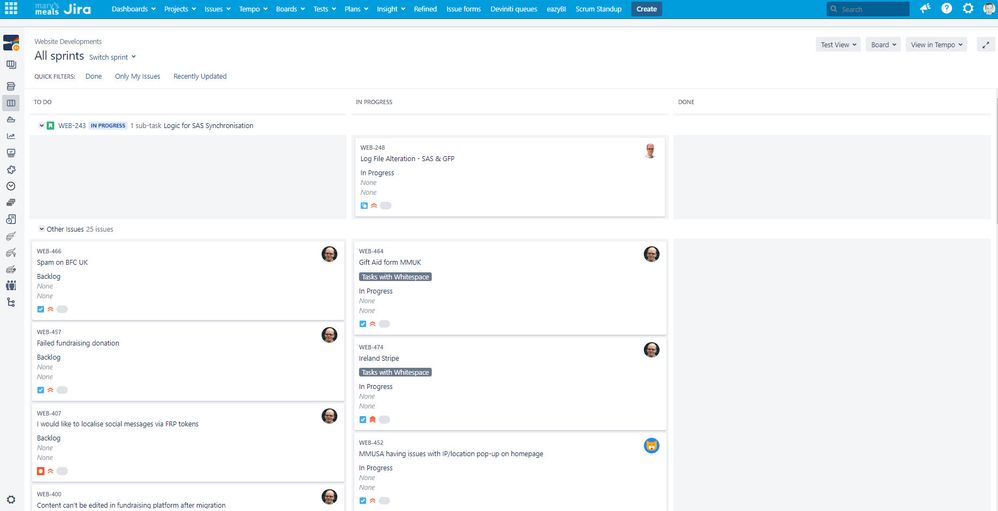 How did you train and prepare teams in your organization to work effectively in Jira and Confluence?
Initially, New Verve provided us with the training required for our internal IT teams and they helped us produce content to onboard our users. There are also some great resources available for free over at Atlassian University. We're always seeking to improve our processes and tailor our tools and the online Atlassian in Scotland webinars hosted by New Verve have been very welcome.
Any tips for IT leads ambitious to help their teams and organizations adopt more agile mindsets and methodologies?
We are still early in our own agile journey and recognise the importance of learning from someone further along that journey; align yourself with an Atlassian Partner and get involved in community events. Business and tech teams must work together to develop agile decision making processes and then work on the tools that support them. The flexibility of the Atlassian toolset has enabled us to start simply and make iterative improvements to our workflows.
Meet Nigel Rochford, founder and CEO of New Verve
We love that you took advantage of licensing for nonprofits. How did this inform the overall solution that you were able to provide for Mary's Meals?
When we engaged with Mary's Meals, it was crucial that we built a solution which accounted for budget limitations. With 100% nonprofit discounts available for self-hosted setups, we embraced a behind-the-firewall configuration so that we could maximise the value we provided through our solutions and services. Since our initial engagement, we've gone on to commit up to 2 days of our time per month for free to help evolve their Atlassian solution further.
We saw that you pledged 1% for Mary's Meals! How did you identify opportunities to evolve their Atlassian solution further after implementation?
We always position ourselves as long-term delivery partners that can steer our customers to success. To do this, we invest time in understanding customer challenges and aspirations (short and long-term). We have a great relationship with Mary's Meals and regularly catch up with Stephen to discuss the team's needs. We also encourage New Verve folk to be proactive and reach out with suggestions for improvements.
What did you love most about working with Stephen and the Mary's Meals team?
It's fantastic to know that New Verve is playing its tiny part to help Mary's Meals in delivering their vision. We encourage more Solution Partners to be part of the Pledge 1% initiative as it's such an easy way to give back to the community. Stephen and the team have been a joy to work with over the past few years. They've been hugely engaging, enthusiastic, responsive, and most importantly, trusting of our team.
Thanks, Stephen! Interested in further details of their implementation? Check out Stephen's Atlassian in Scotland presentation or review their solution case study.
Interested in JSM? Learn how you can unleash your high-velocity team today, or get in touch with us to create a bespoke Atlassian solution and a long term partnership you can trust.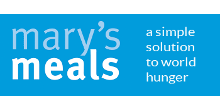 Client: Mary's Meals
Categories: IT Service Management
Technologies: Jira Service Management, Insight